Reaction has trailed as lawmaker Shehu Sani passes advice to Fr  Mbaka concerning Mrs. Bianca Ojukwu.
Social media outlets have been busy since yesterday following the utterances made by the Spiritual Director of Adoration Ministry Enugu, Nigeria, AMEN, Rev. Fr. Ejike Mbaka against the presidential candidate of the Labour Party (LP) and former Governor of Anambra State, Mr. Peter Obi.
Fr. Mbaka made it clear that Peter Obi will never be the president of Nigeria.
He also said that Mr. Obi is stingy and has been cursed, adding that it would be better to have an old man as president than a stingy young man.
many Nigerians from far and near have expressed their views on the issue that has almost balkanized the Catholic faithful into two warring factions.
According to Bianca Ojukwu, If Obi's value is defined as "stinginess" then Nigeria needs to adopt such a mold for a sustainable environment.
However, famous Nigerian politician, activist, and former lawmaker, Shehu Sani, took to his official Twitter page to advice that Reverend Mbaka should neither come near Bianca nor allow Bianca to come near him.
The tweet reads;
"My advice; Our Father Mbaka should neither come near Bianca nor allow Bianca come near him."
Below is the captured screenshot of the tweet;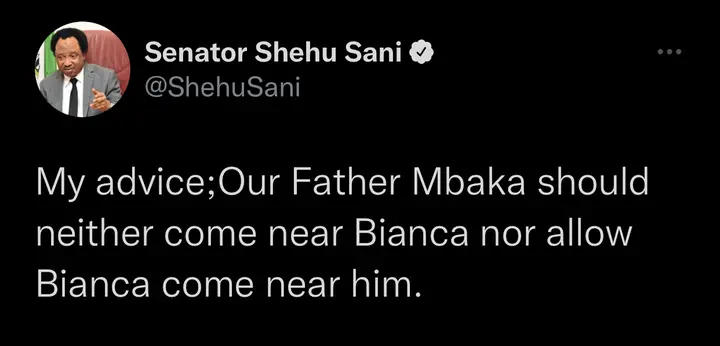 Meanwhile, it's difficult to discern the real message behind his tweets, but his followers swiftly took to the comment section to register their reactions as seen below.
What is your take on this issue? Share your thoughts in the comments section below.