Crime/fraud is a phenomenon that is despised by all of human civilization, and offenders are typically punished in accordance with the laws outlined in each nation's constitution.
Depending on the heinous crimes they are found to have committed, different offenders receive different punishments.
However, Social media users have been surprised by a recent news stating a man, Scales Olatunji has been sentenced to 235-year imprisonment for his involvement in money laundering and internet fraud.
This follows the verdict by Justice Agatha Okeke of the Federal High Court of Uyo and the news was broke on Economic Financial and Crime Commission (EFCC)'s Twitter handle.
Although most nations' security and national laws forbid cybercrime, many people have been perplexed as to why a 235-years prison sentence has been issued as his penalty given that the average human life expectancy is far less than this.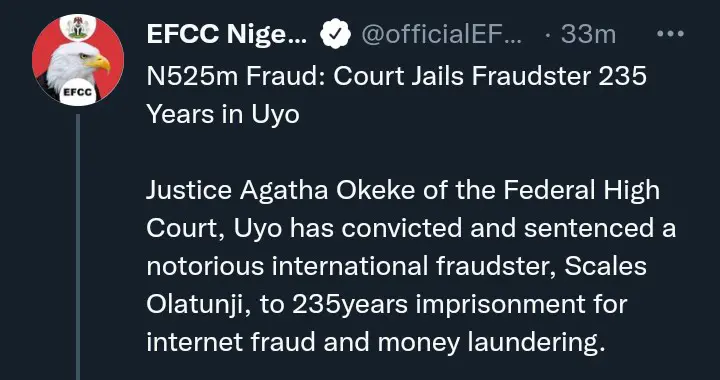 What do you think about this? Let us know your thoughts in the comments.