Mr. Cletus Ibeto CON who is a known sympathiser of the PDP Presidential candidate Atiku Abubakar just arrested his closest political rival and a member of APC Campaign Council for Tinubu and Shetima Hon. Onyedika Chukwuma (Acobarry UK) popular as Acobarry UK on grounds of false information to the FIB department of Nigerian Police Force.
Speaking to pressmen after his release Hon. Chukwuma said that Ibeto reached out to him in London and begged him he wanted a peace talk between him and Sen. Dr. Patrick Ifeanyi Ubah and made special demand that the Nnewi based Publisher of Bell Newspaper and bellnewsonline.com Sir, Augustine Onyekachukwu Ike-Ikedoji ( the YPP Candidate Anambra State House of Assembly Nnewi North Constituency) be present.
Unknown to him, Mr, Cletus Ibeto was only looking for a way to move him from UK to Nigeria with the singular motive of throwing him into Prison following the false information Ibeto supplied to the police that Hon. Chukwuma was responsible for pulling down "his' fence in Nnewi Triangle. Though bellnews gathered that the demolishing was carried out in broad day light by Anambra State Physical Planning Board because they said structure do not have approval of government and was sited on Nnewi Civic and Cultural Centre.
Ibeto whom we gathered contracted known unconventional persons to secure the land Anambra State Government returned to Nnewi since 2017 under Governor Obiano's administration accused Hon. Chukwuma who is in far away UK when the exercise was carried out, of using cultist to destroy the property he was securing with alleged cultists after the military men were directed by their hierarchy to vacate Nnewi Triangle.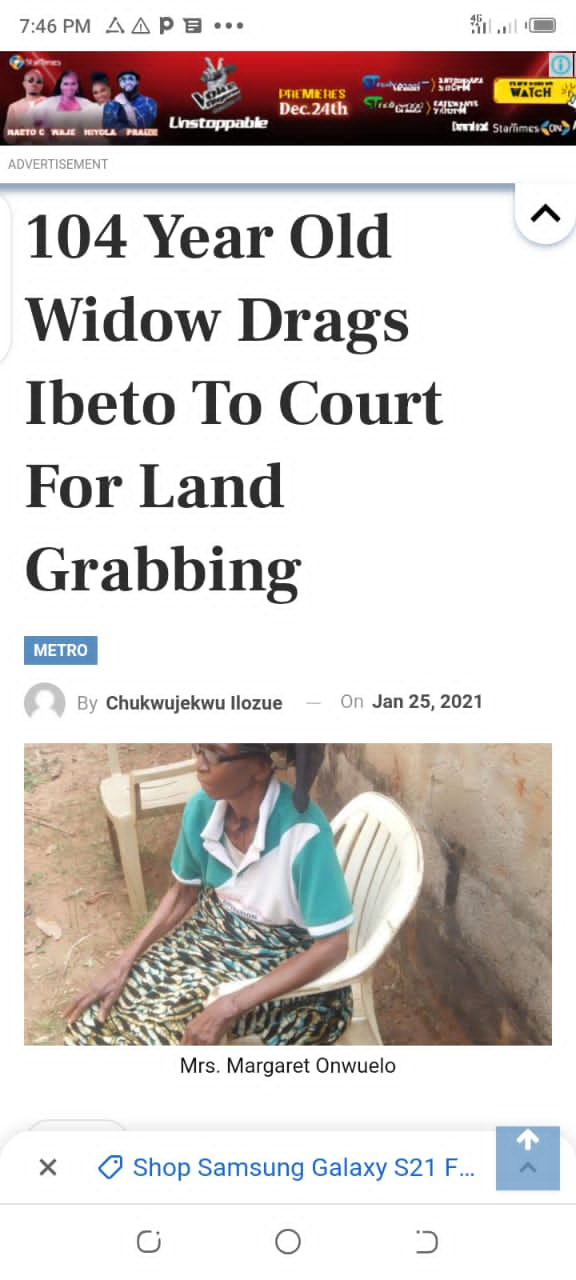 Hon. Chukwuma further told pressmen that Nnewi based Publisher of Bell Newspaper and bellnewsonline.com should be careful going forward as Mr. Cletus Ibeto is using both conventional and unconventional means to track him down. Sources close to Sir, Augustine Onyekachukwu Ike-Ikedoji told pressmen that several attempts made to abduct Ikedoji since last two weeks has failed.
Bellnews gathered that the land tussle is between Mr. Cletus Ibeto CON and HRH Igwe Dr K.O.N Orizu III JP CON; Igwe Nnewi. Who in a meeting warned Ibeto to stay away from Nnewi Triangle that it belongs to Ndi Nnewi and Ibeto openly challenged Igwe Nnewi that he will not. One wonders why Ibeto is trying to haunt down the publisher of bellnews and Hon. Chukwuma? The former is to keep him away from winning the House of Assembly election which is almost certain and the latter to stop him from fighting for APC during 2023 election since Ibeto needs Atiku to win at all cost so that he will revive his business.
One thing is clear Mr. Cletus Ibeto has rich history of land grabbing and the most popular is that between him and 104 year old Mrs. Margaret Onwuelo as reported by Daily Independent Newspaper click link below.