In the wake of Wike loss in the race for the Peoples Democratic Party (PDP) Vice Presidential ticket, the All Progressives Congress (APC) have been told to do all it can to bring him to the ruling party.
In case you have not heard, Delta State Governor, Ifeanyi Okowa has emerged as a running mate to the PDP presidential flag bearer, Alhaji Atiku Abubakar.
Okowa was unveiled by Atiku himself at a press conference in the Federal Capital Territory on Thursday, June 16, 2022.
It was gathered that the Delta Governor narrowly edged out his colleague from Rivers, Nyesom Wike, after both men fiercely lobbied the PDP leadership for the slot.
As expected, the opposition party's decision to shun Wike for the VP slot has sent many tongues wagging in the country's political space.
Taking to his Facebook page to react to the development, APC Chieftain, Joe Igbokwe, urged his party to seize the opportunity In bringing Governor Wike into the ruling party.
While lauding Wike's prowess in the nation's political landscape, Igbokwe urged the leaders of the APC to do all they can in convincing the Rivers Governor to join them, even if it meant traveling to his domain fomr discussions with him.
"Governor Nwike is a big fish and a great performer in Nigeria at the moment. Let us beg him to join us ASAP. Let our leaders move to Rivers State to perfect it," he wrote.
On several occasions in the past, Nyesom Wike had reiterated his decision to remain in the PDP regardless of the outcome of the party's presidential primaries.
After losing the presidential ticket to Alhaji Atiku Abubakar some weeks ago, the Rivers Governor had promised to do all within his power to support him in his quest to wrestle power from the ruling APC.
Now that he has also lost out on the party's Vice-Presidential slot, it remains to be seen if Wike will keep his promise to support Atiku.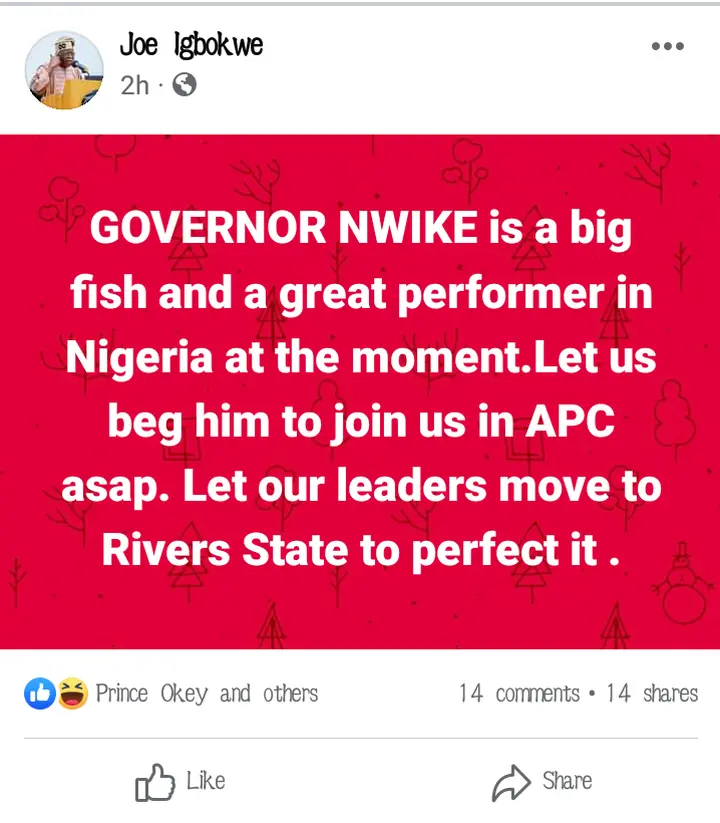 Dear esteemed readers, in the Wake of his loss to Okowa, do you foresee Wike dumping the PDP? Please drop your comments below.