Engineer Joe Igbokwe was on his Facebook account this evening to react to a news reported by Bellnews.
Bellnews reported that Governor Dave Umahi of Ebonyi state made it clear ahead of the 2023 presidential election that the people of Ebonyi state will be voting for Bola Tinubu of APC and not Peter Obi of Labour party.
In reaction to that news Joe Igbokwe stated that if there is any governor from the south east that deserves attention then people should please take notice that it is Governor Dave Umahi.
He asked people to go to Ebonyi state and witness the monumental and iconic projects undertaken by his administration with little money.
Ebonyi state is a south eastern state and the people there are expected to vote for Peter Obi who is from the region or vote for PDP because it is believed that PDP gets a lot of votes from the south east.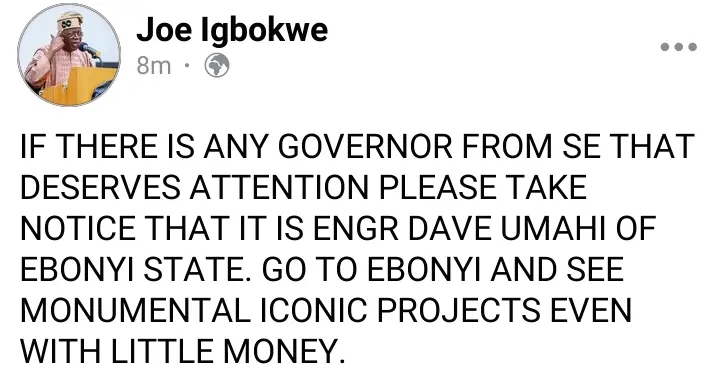 This statement made by Governor Umahi is a sign that things are about to change in the state, and power might change hands in 2023.
Though the governor can't speak for all the citizens because he can't force them to vote for Tinubu but he can influence or persuade his people to vote for the candidate of his party.