Recently, a press statement about the arrest of some suspects behind the Owo Church attack was released by Richard Olatunde; the Chief Press Secretary to Governor Rotimi Akeredolu of Ondo State.
In the press statement, Governor Rotimi Akeredolu reacted to the announcement made by the Chief of Defense Staff (General Irabor Lucky) about the owo church attackers saying, "we knew those behind the Owo church attack for a while (long ago) but we delayed the announcement."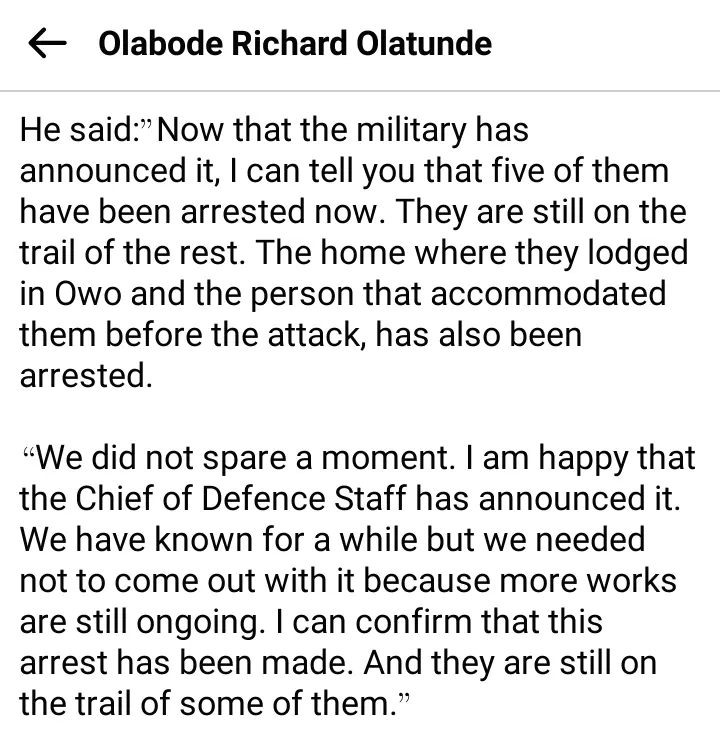 The Governor however warned the Ebira people living in the state against venturing into kidnapping saying, "we appeal to (Ebira) youths not to emulate the bad act of kidnapping because some of them living with us are now into kidnapping."
He continued, "the Ebira people I know have lived together with the people of Ondo peacefully for several decades and they have always been supportive and hardworking."
Concerning the efforts taken so far about securing lives and properties in the state, Governor Rotimi Akeredolu disclosed that 20 hunters and local vigilantes will be trained by the Amotekun corps in each of the eighteen local government areas in the state.
This is different from the recent recruitment and training of new Amotekun personnels.
Finally, the governor said he will have a meeting with leaders of Ebira people in the state to ensure such incident do not resurface.