The assassination of Deborah Yakubu, a Christian student at Sokoto has been condemned by the Archbishop of Canterbury – Justin Welby.
Deborah's murder, according to Archbishop Welby, was disobedience to God Almighty, because God's commandment mandated us not kill. Deborah, a 200-level student, was brutally murdered by students for an alleged blasphemous-related statement against the Prophet Mohammad.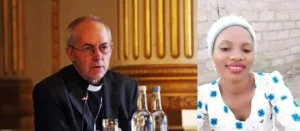 According to a BELLNEWS report, the Archbishop of Canterbury made this known via his official Twitter page and he asked the Nigerian government to promote security in the country, promote religious rights and most importantly find a lasting peace between all religious groups in Nigeria.
He also mourned the death of the 200-level student – Deborah Samuel.iv
According to this Archbishop, this act of violence is a big sin against God. He prayed for Deborah Samuel's family and loved ones.
He added that he spent years in Northern Nigeria working with many people to promote peace and interfaith dialogue.
He said that he is deeply disappointed and saddened that such brutalities still occur in Nigeria.
He said that he appreciates the efforts of the Nigerian Muslim leaders in condemning this atrocity against God Almighty and humanity.