According to reports, the management of Bauchi State Abubakar Tatari Ali Polytechnic has suspended a senior staff of the institution.
It should be recalled that Raliya Kashim until the suspension is a senior staff of the school.
Raliya Kashim was suspended on the ground that he was campaigning for All Progressives Congress flag bearer in the forthcoming presidential election.
The letter confirming the suspension was make available to the public and signed by the Polytechnic spokesperson Mr Baraya.
Mr Baraya reiterated that "We wish to assure the general public that there would be no sacred cow and it will never be intimidated by the activities of political jobbers, fifth columists and enemies of the state"
In a separate letter, Mr Baraya said the institution's decision to suspend Me Raliya Kashim was not politically motivated.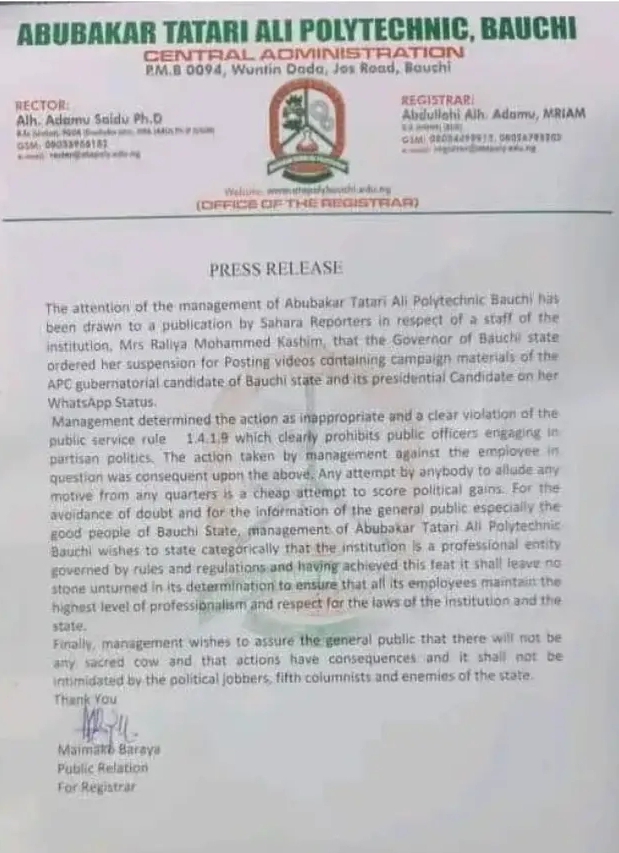 Found the news about the actions of the Bauchi State owned Polytechnic right? Feel free to react by leaving comment in the comments section.