Some prison inmates that escaped from Kuje Prison have been re-arrested.
A statement which was made by the Nigerian Ministry of Defense, Bashir Magashi, said it was a deliberate attack by Boko Haram insurgents to free their members.
Bashir Magashi, who addressed journalists, said the attack started around 10:30pm.
The Boko Haram insurgents came in large numbers and released some imates.
However, the Nigerian Defense is already tracking records to know the type of prison imates that were released.
According to Bashir Magashi, the prison has 994 inmates and over 600 escaped inmates. many have been recaptured and the Nigerian Army is doubling their efforts to ensure all the prisoners who escaped are brought back to the prison. Below are photos of the imates that have been recaptured.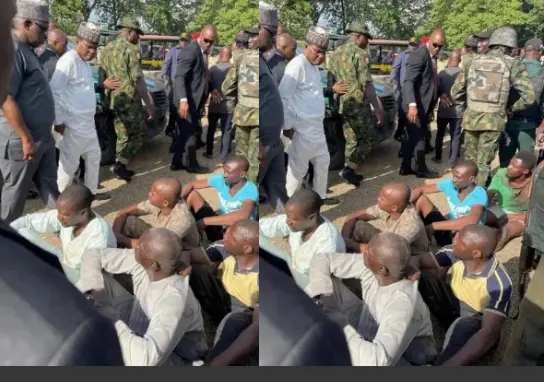 Bashir Magashi added that there were about 64 Boko Haram insurgents in the prison and they had all escaped.