The Northern Youth Leaders Forum (NYLF) has reacted to speculations which says that the forum has withdrawn their support for the PDP Presidential Candidate, Alhaji Atiku Abubakar and is now supporting the Labour Party's Presidential Candidate, Peter Obi.
The Leader of the Forum, Eliot Afiyo said they are 100% behind Atiku Abubakar and that they decided to support him after withdrawing their support for Governor Bala Mohammed when the Forum visited him and Chief Dokpesi.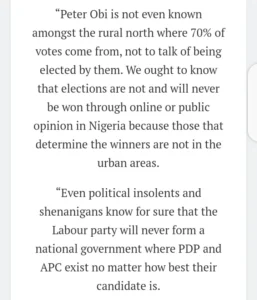 Eliot Afiyo said Peter Obi is not known amongst the rural North where 70% of the votes come from and that he cannot be elected by them.
He said elections are not won through online and public opinion in Nigeria because those that determine who wins are not in the urban areas, but in the rural areas.
The forum said the claim was peddled by a section of the press, especially the Southern online bloggers and urged them to stop spreading unverified news.
The leader of the forum said that the Labour Party where Peter Obi is can never form a National Government where APC and PDP exist no matter how good or powerful their candidate is.
NYLF has said that 70% of votes in Nigeria come from Rural North and that Peter Obi is not even known there. Do you agree with what the forum said?