The operatives of the Nigerian Police Force, based on credible intelligence, thwarted a potential terrorists attack in Kano State.
This was disclosed in a press statement by the state police command.
According to the police spokesperson, Deputy Superintendent of the Police (DSP) Abdullahi Haruna Kiyawa, a Mercedes Benz Vehicle loaded with firearms was tracked and Intercepted.
The security operatives recovered sophisticated Improvised Explosive Devices (IEDs); AK-47 rifles, and rounds of live ammunition.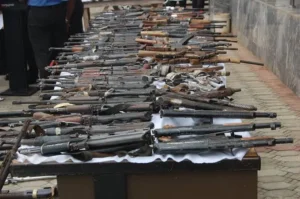 The police spokesperson disclosed that the Intercepted explosives and weapons were being smuggled from Jigawa into Kano State.
He stated that the suspect, driving the Mercedes Benz vehicle, tried to escape from the police but later fled and left the car at Bubbugale Quarters Kumbostso Local Government Area of Kano State.
Meanwhile, the Kano State Police Command urged citizens to be calm and vigilant as investigations are being carried out by security operatives.
However, it is worthy to note that there has not been any connections linking the recent arrest to Kano explosion as some persons are falsely spreading.