There are many histories to forget in this life but not like the history of Summerford. who had too much personality to forget.
According to some sources, he was struck by lightning on four separate occasions as he later died.
The story of Walter Summerford is a mysterious one that has often left people to be surprised and named him "most unlucky man in history".
Whether you consider yourself lucky or unlucky, in life try and remember someone was struke 4 times.
History
General Walter Summerford was a British soldier who served in World War I. In 1918 one soldier was met with a startling surprise at a time when most soldiers were trying to dodge bullets.
Walter was galloping through a field in Belgium on his horse when he was hit by lightning. He was thrown off his horse upon impact, and left paralyzed from the waist.
Forced into early retirement, Walter started a new life in Vancouver, Canada. He had been an avid sportsman and was engaged in many of the wondrous outdoor activities his new home had to offer.
In 1924 Walter set off to fish along the shore of a local river. Little did he know, he was resting under the wrong tree at the wrong time.
Without warning, a lightning bolt struck the tree Walter was under and surged through him, which resulted in the entire right side of his body being paralyzed.
Miraculously, he recovered from the second bout of Mother Nature's electric slashing and regained the use of his legs. After two years, he was able to walk and spent the majority of his time doing so.
Walter decided on a warm summer day in 1930, to take a scenic walk through a park. It would be his last as luck will have it. The soft summer sky drew in deep, menacing clouds that rumbled over Walter with a sound that was all too familiar. A lightning bolt came down from the sky for the third time in his career, directly striking him with such intensity that he was totally paralyzed.
Walter passed away in 1932 in an tragic two year struggle due to the problems caused by his last lightning accident. Surrounded by family and friends, he was laid to rest in the Mountain View Cemetery in Vancouver as they mourned his death. Though one might believe he was at peace at last, think again.
During a crisp 1936 Spring night, another storm will prove to defy the impossible odds that already exist. As Walter was sleeping in his grave underground four years after his passing, another lightning bolt would hurtle from the sky. It was right through his gravestone from all the places it might reach.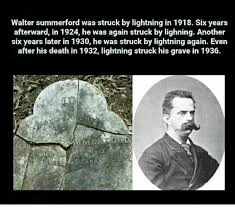 While lightning work has been carried out for centuries, it was Benjamin Franklin who did the first scientific study. When technology improves and scientists are able to study and analyze more extensively, we 're all left with so many unanswered questions. We are also unclear, for example, how a thundercloud gets charged in the first place or how a lightning sparkling triggered.
While much remains a mystery, when it comes to Walter Summerford, who was struck by lightning every six years between 1918 and 1936, it's safe to say he is one of the unluckiest people in history.
Can we say he was just unfortunate or has he done some kind of injustice that has caused him to be subjected to a terrible persecution.