The office of a pastor is still the most common in the body of Christ. They oversee the Church and render spiritual assistance to members, most especially in the areas of tending to the spiritual and sometimes physical needs of the members.
The position of a pastor is most times mistaken for virtually all other offices in the body of Christ.
On this, Pastor David Ibiyeomie of Salvation Ministries has shared a message on the major assignment of a Pastor in the body of Christ.
As shared by Bellnews online, in his words, the cleric has revealed that it is not the duty of pastors to be praying for members, the true work of a pastor is to study and feed God's people.
According to the cleric, it is not the duty of pastors to be praying for you. In any Church you go to you must be well taught and led right in the things of God.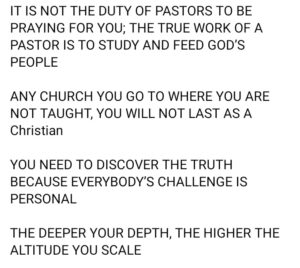 Where you are not taught, you will not last as a Christian; hence the need for pastors to study to be able to teach and lead the members rightly.
The cleric has also revealed the need for believers to be spiritually independent. He has revealed in this wise that, it is not the duty of pastors to be doing things for you, we can pray for you with our anointing but do not depend on people. Do not make it their duty to always pray for you at all times.
The various challenges that people go through in life are different and personal.
The cleric has shared in respect of this that, believers need to develop themselves for knowledge. You do not need to depend on anyone at all times because other people are also going through some situations in their life.
In his words, he has stressed that people do not always like knowledge, they do not want to develop themselves to face their life challenges. All they want is for pastors to keep praying for them.
The cleric has also shared that, believers have the responsibility to read the Bible and also pray for themselves.
The reason for this is that, no matter how close a wife is to her husband, the wife cannot eat on behalf of the husband.
No matter how much you love somebody you cannot borrow his/her brain to pass an exam.
No matter how you love somebody, you cannot use another man's headlamp to drive your car.
So you have the responsibility to know the truth. Why you need to discover the truth is because everybody's challenge is personal hence, you need to steer your boat and be confidently in charge of your own life.