Chief Robert Clarke have come out to say that Nigeria Will collapse if things are not put in order to curb insecurity in the country.
The high level of insecurity in the country has seen many people come out publicly to express their displeasure over what is happening.
It is no doubt that Nigeria as a country has always had security challenges, but it can be argued that the situation now is worse than what we have ever witnessed since the end of the civil war.
Joining the list of those who have expressed their displeasure over the high level of insecurity in Nigeria, is Chief Robert Clarke, a Senior Advocate of Nigeria (SAN), and a well known supporter of President Mohammadu Buhari.
According to reports, Chief Robert Clarke who appeared on Channels TV programme, Politics Today on Sunday night, has sworn by his father's grave that Nigeria will collapse in six months time if nothing is done to slave the situation.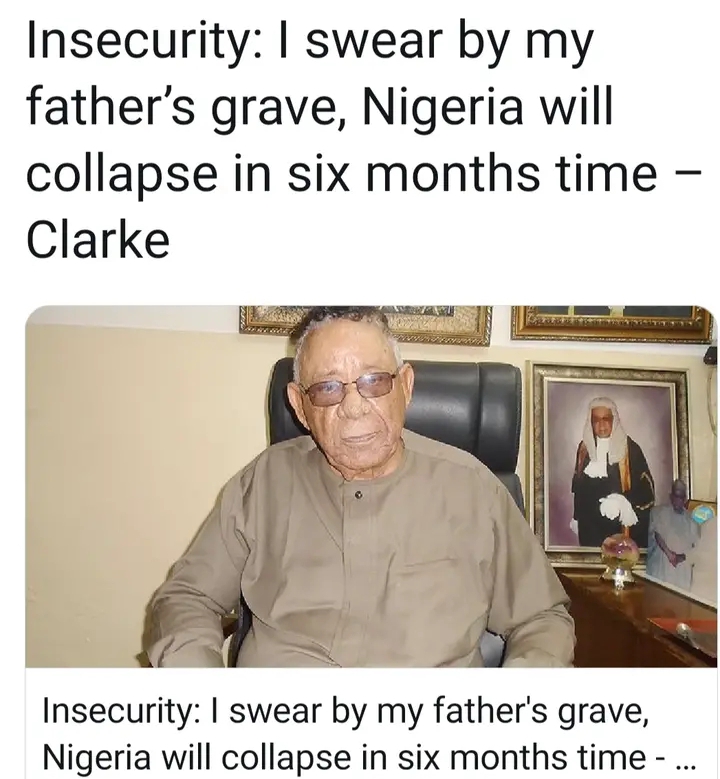 Since this statement was made available on twitter by Bellnews Online, many Nigerians have been reacting angrily to it.
According to some of the people that commented on the post, Chief Robert Clarke is a well known supporter of President Buhari, and has always defended the President.
However, looking at the present situation of things in Nigeria in terms of security, one can argue that it is no longer time for politics.
As such, the SAN may have seen the urgent need for government to put more efforts in the fight against crime in the country.
Although some people have reacted angrily, it is important to note that the SAN could just be referring to how things are likely to get out of hands within six months of nothing is done to restore peace and security in the country.
Chief Clarke also advised President Buhari to also hand over the government to the military for them to help the nation come out of the current crisis.
Do you think that Nigeria can actually collapse in six months time? Drop your comments below.