Many Nigerians have been looking forward to what will happen after Peter Obi left PDP to Labour Party to pursue his presidential ambition.
The DG of Peter Obi presidential campaign team, Doyin Okupe has revealed to Nigerians what will happen if Peter Obi becomes the next person to take over from President Buhari.
He said
From 2023 when Peter obi becomes Nigerian President , Power and national wealth will be taken from our erstwhile greedy and self centered leaders and be returned to those who toil and sweat day and night to keep the National wheel of production and services moving.
Doyin Okupe also talked about their party political structure in ensuring they win in the general election.
He Tweeted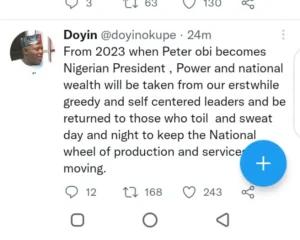 People told me, Labour Party has no structure. True. But labour Party with Peter Obi as its flagbearer exists in the hearts and souls of Nigerians, who therefore are its structure.
These human structures are Stronger than political structures founded on the pillars of injustice, Unrighteousness, inequity, pursuits of personal and sectional gains and interests.