By Don Peter Okoro.
It was an atmosphere full of joy and happiness on Sunday, the 8th of January 2023, when the last son of Archbishop (Prof.) Emma David Okafoagu JP said good bye to bachelorhood and tied the nuptial knot.
The wedding ceremony between Elijah Chukwuemeka Okafoagu (Omekanaya) and his heart-throb Diamond, was indeed a glamourous sight to behold. After the solemnisation of the marriage ceremony at the New Covenant of God Cathedral Akabuokwu, Uruagu Nnewi, Anambra State, the Happy Couple and their Guests moved to Hotel Carolina Resorts,Ichi, for the Reception which turned out to be massive and a Carnival of sorts.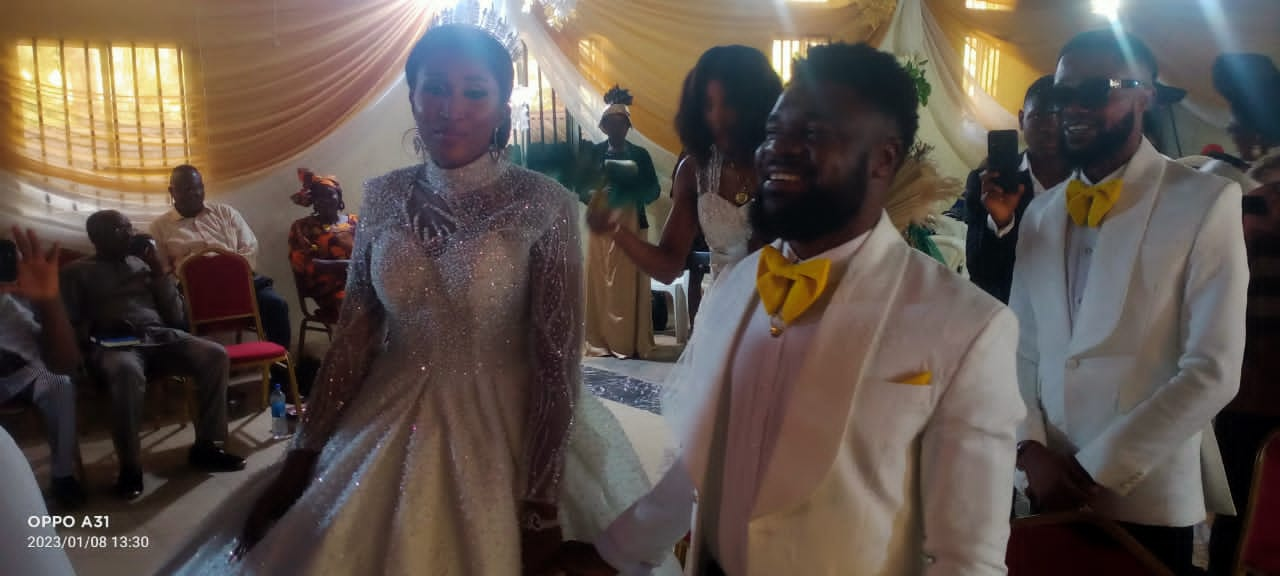 Speaking about his son, Archbishop Okafoagu said:" We thank God because it is a thing of joy that my son has finally got married. He would have married since, but the lady disappointed and he refused to marry again. So, I thank God that he has finally got married to Diamond.And may the name of the Lord be glorified.".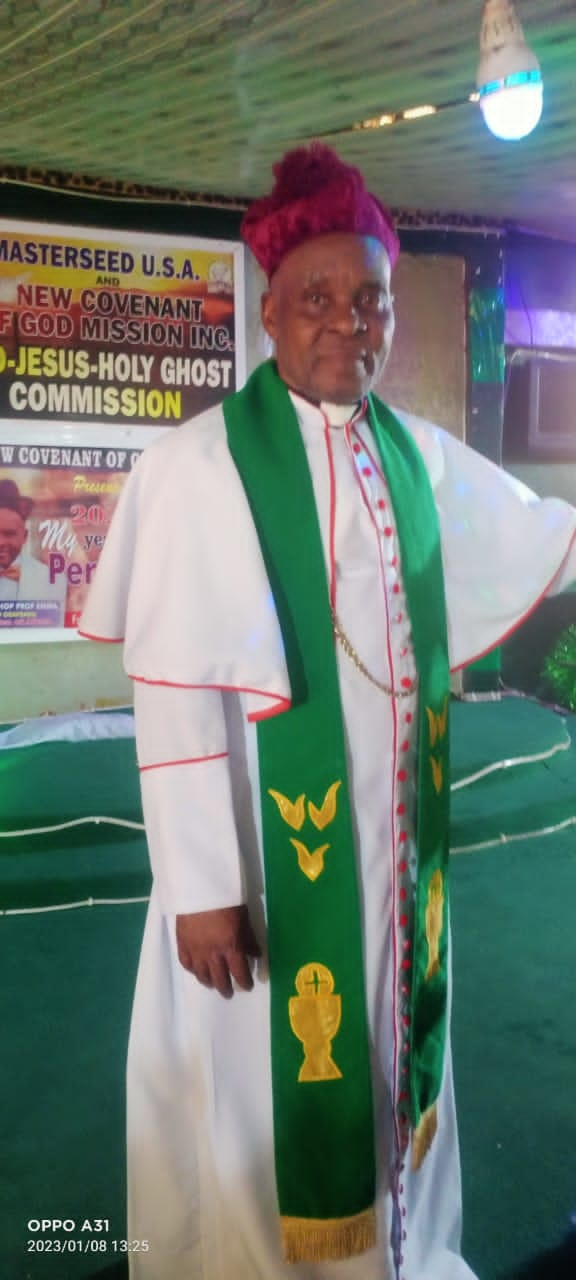 On his mood, he replied:. " I won't tell you lies, I'm very happy because all my children both males and females have all gotten married except him and one of my daughters. It remains one of my daughters who I think is very marketable." On the kind of person he is, the Archbishop replied:"You heard the name" Omekanaya." Like father, like son, both in action, in words and in cash." On his prayers, he offered:"
Well God has already blessed them and I'm expecting twins of two boys to continue with the blessings. " Also speaking, the first son of Archbishop Okafoagu, Hon. Evang. Emmanuel Okafoagu said:" I'm so happy and very excited. This is what we have been waiting for. God will do what He wants to do at His own time. We had planned to witness this about 2 or 3 years ago, and finally God did it in 2023.
On the kind of person his brother is, he replied:" He is a very humble person and a workaholic, that likes to work behind the scene. And as you can see, he is a very handsome guy. Another quality he has that makes people get attracted to him is his silence, he is not a noisemaker. And whenever he talks, he talks with wisdom and he doesn't quarrel." Praying for him, he prayed that God will sustain him just as He sustained their parents to enjoy their Golden Jubilee in marriage and for God to give them the grace to enjoy their old age in good health.
In his comments, Engr Isaiah Okafoagu, who is the number 7th in the family has this to say: " I'm feeling very blessed and I give God all the glory. It was my late Mum's desire for him to get married. We are happy that everything went on successfully.". On his prayer for him, he offered:"My prayer for him is for more Grace and more Glory. I also pray that he should have many children". On her part, the Legal Luminary in the family,Hon. Barr. Love Chinyere Okafoagu said:. " I'm so happy and I am saying Father thank you for this day that we have so much waited for. I am so grateful to God." On the type of young man that her brother is, she replied:" My brother is a Lion hearted man. He is a good boy. He is the last son of my mother. He has been so picky that is why today is a Special Day for us.My Mum specifically picked this girl and said, 'Chukwuemeka this one, I want to marry this one.' 6 months later , my mother died. He is a very good boy and I know that their marriage will be successful in Jesus name." On her prayers, she responded:" I pray that God will bless them. I pray that their love will not wax cold. I pray that evil eyes will not locate them and that bad advisers will not come around them. That at any point in time that they need counseling,a good person,a God ordained Counsellor will give them the right word for that season.In Jesus name." In all all, it was a very beautiful and successful wedding ceremony, full of pomp and pageantry.