The association of Eze Ndi Igbo N'Uzo Ije (Diaspora) in their annual quarterly meeting held at the Villa park Hotel and suites, Festac town, Lagos endorsed Professor Peter Umeadi and his running mate Comrade Abdullahi Mohammed Koli describing them as the most qualified candidates Nigeria needs at this critical moment everyone is clamouring on getting things right.
This is one of the many endorsements from all parts of the federation that the APGA Presidential Candidate Prof Peter Umeadi has had ranging from the endorsement by youths from the 19 Northern states of the federation, endorsement by the Igbo Northern leaders in the North, endorsement by several universities of the federation amongst others
Speaking after listening to Prof Peter Umeadi's agenda and manifesto for a better Nigeria, Eze Nwabueze Ohazuluike OON (Eze Ndi Igbo Lagos State and chairman board of trustees of the association of Eze Ndi Igbo N'Uzo Ije) advised Nigerians to choose leaders who will occupy different positions come 2023 wisely.
He went further to describe supposed leaders as men or woman who have good educational background, flawless character, someone who can translate vision into reality, someone who knows the way, goes the way and shows the way.
He pointed at Prof Peter Umeadi as the leader who posseses all the aforementioned qualities saying that he is the one Nigeria and Nigerians need at this time.
The association in their meeting also commended INEC for yielding to the cries of Nigerians and extending the ongoing voter registration exercise.
They went further to encourage INEC to make the exercise less cumbersome to Nigerians so that everyone who demands to exercise his or her civic responsibility to vote can vote come 2023.
Going further, they advised relevant authorities to make voting compulsory to all Nigerians just as the NIN is compulsory so that youths especially who rarely participate in selecting leaders during elections would understand how necessary the exercise is.
They however decried the high level of insecurity in Nigeria asking the government on all levels to prevail on the security agencies so that they would up the ante on carrying out their responsibilities effectively and efficiently.
In conclusion they reminded politicians that elections periods are not war times and so they must carryout their campaigns with uprightness instead of wiping up primordial sentiments aimed at selfish gains.
Prof Peter Umeadi's candidature is divine.
Below is the letter.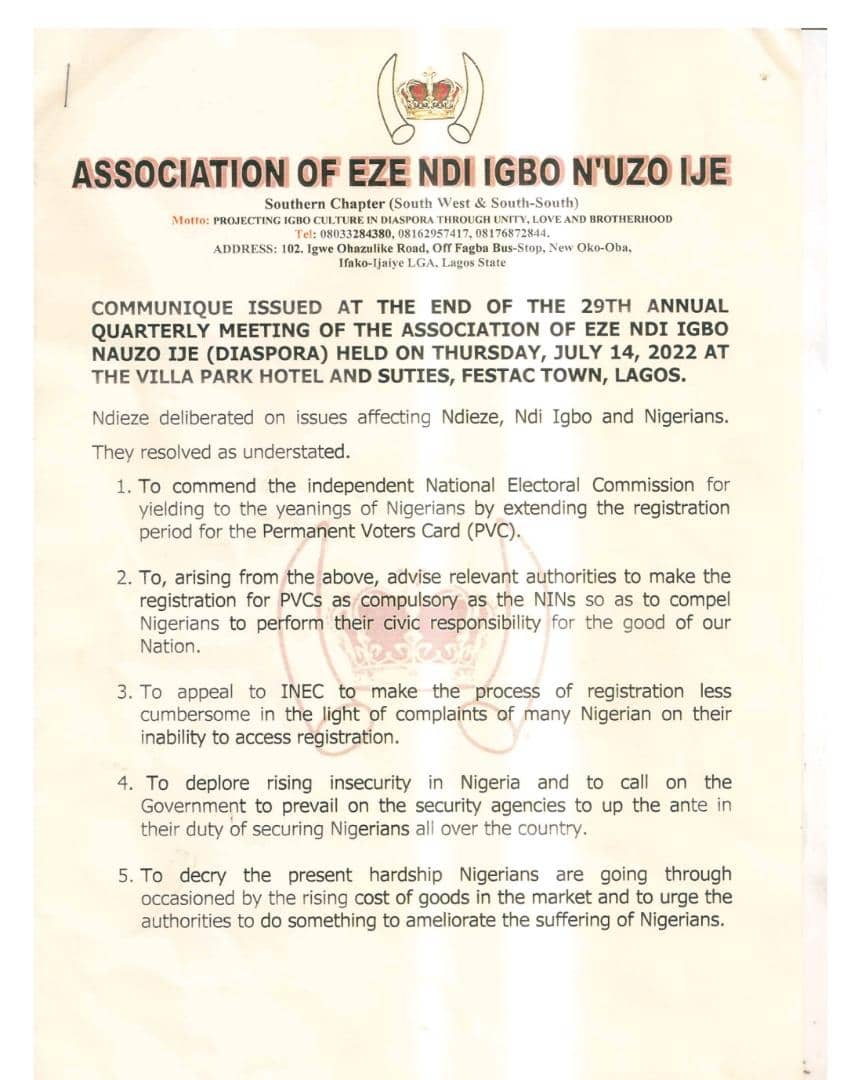 APGA National Publicity Media Team