A presidential aspirant and former Governor of Anambra State Mr Peter Obi has resigned his membership of the People's Democratic Party (PDP). Obi made the declosure via his social media pages on Wednesday.
His decision to shelve the intention of contesting for the PDP presidential ticket has generated many reactions from Nigerians.
However, Obi did not just leave the PDP, he explained that some developments in the party made him resign.
Below are some of the reasons offered by Mr Peter Obi on why he is leaving the PDP in a letter sent to the National Chairman of the party: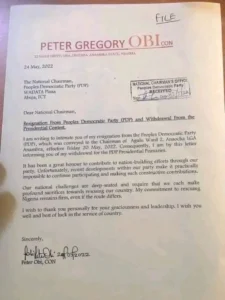 1. Recent Development
Whatever was behind Mr Peter Obi's resignation may not be far from some recent happenings in the party.
Peter Obi has met delegates across the 36 state with the execution of Adamawa, so pulling out now meant that some strong issues came up. Peter Obi did not make any of these issues public.
2. Constructive contributions
It is also likely that Obi had made a rational suggestion to the party on some consensus related issues and was turned down. The party is probably trying to foist an aspirant.
3. Profound sacrifices
Peter Obi may be willing to step down for Atiku but it is likely that the odds does not favor Atiku at this point so he is resigning.
It is also likey that Obi thought that the north should sacrifice for the South East to produce the president.
Mr Peter Obi offered some ambiguous reasons for leaving the party, leaving many people especially his supporters with unanswered questions.