A Nigerian man named Lawal Anas Shehu took to his Twitter pledge to promise and pay allegiance to Peter obi.
In a tweet he promise to offer  his family warehouse to Peter Obi in Zaria as an extension of an office after Bashir Ahmed revealed that the Labour Party has no candidate in most of the Northern States. Lawan Anas said,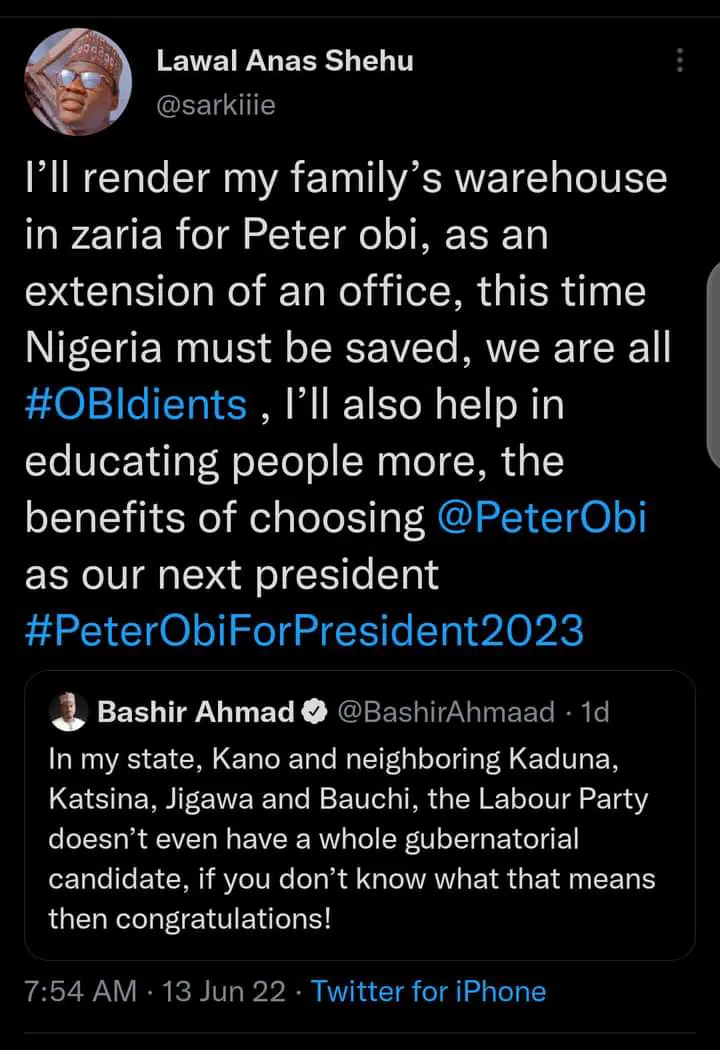 "I'll render my family's warehouse in Zaria for Peter obi, as an extension of an office, this time Nigeria must be saved, we are all #OBIdients , I'll also help in educating people more, the benefits of choosing @PeterObi as our next president."
If the Peter tsunami makes a landfall. The first victim will be Baba Atiku. His vote bank in the South South and South East will be washed away. But to make landfall the tsunami must travel a distance.
Let's hope the Peter tsunami doesn't Peter away mid-sea. If the Peter Tsunami reaches pitchers 8/9 and meets Lagos at full strength then a new Nigeria could be in the offing.
Don't underrate waves. They are tricky propositions while the tsunami might not push Peter into the rocky villa in Abuja.
It might damage the APC/PDP oligopolistic barricades. Never say never. But the leg that can carry this name to Umuahia has not been unveiled. 7 months is long and short but it looks like something new is afoot.