Today, I join your friends,family, and well wishers to heartily congratulate and felicitate with you,Senator (Dr) Orji Uzor Kalu, Senate Majority Chief Whip, on the occasion of your 63rd birthday anniversary.
As it is well known, Senator (Dr) Uzor Kalu, from a young age,rode like a collosus over different fields of human endeavour and is today a successful business man, astute, politician, humanitarian par excellence, and a role model to many aspiring youth in the country.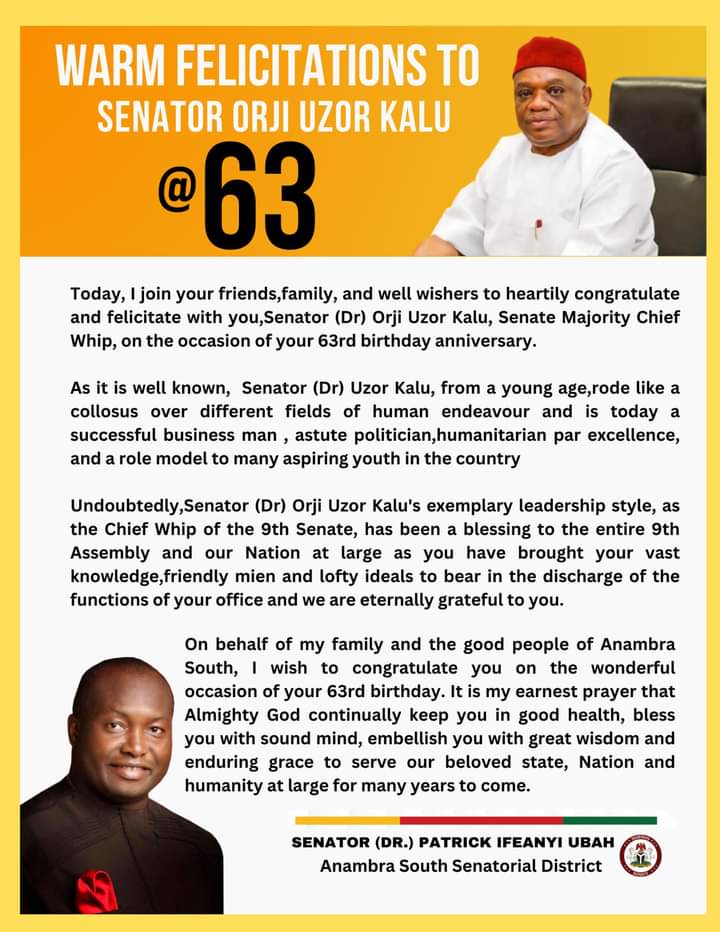 Undoubtedly,Senator (Dr) Orji Uzor Kalu's exemplary leadership style, as the Chief Whip of the 9th Senate, has been a blessing to the entire 9th Assembly and our Nation at large as you have brought your vast knowledge,friendly mien and lofty ideals to bear in the discharge of the functions of your office and we are eternally grateful to you.
On behalf of my family and the good people of Anambra South, I wish to congratulate you on the wonderful occasion of your 63rd birthday. It is my earnest prayer that Almighty God continually keep you in good health, bless you with sound mind, embellish you with great wisdom and enduring grace to serve our beloved state, Nation and humanity at large for many years to come.
Anambra South Senatorial District.