Ahmad Abubakar Gumi on his Facebook page, he advised Nigerians to stop comparing Bokoharam terrorists with IPOB because BokoHaram is repenting while IPOB is not. Gumi said,
"It's taking almost twelve years to fight Boko Haram in the North East, with their leader only killed during a factional fight, not by our military action.
And now, many BH is, fortunately, surrendering as a result of the genuine efforts of reconciliation and rehabilitation by the federal and state government as demonstrated by action, not rhetoric.
This unfortunately is irking some especially the elites as cajoling criminals. To them, anything short of annihilating them is no solution.
Comparing them to IPOBs who are non-repentant and not ready for reconciliation is disingenuous. Yet politicians have to deal with that."
The Nigerian government has declared both BokoHaram and IPOB terrorist groups because of the kind of activities they have carried out in the country.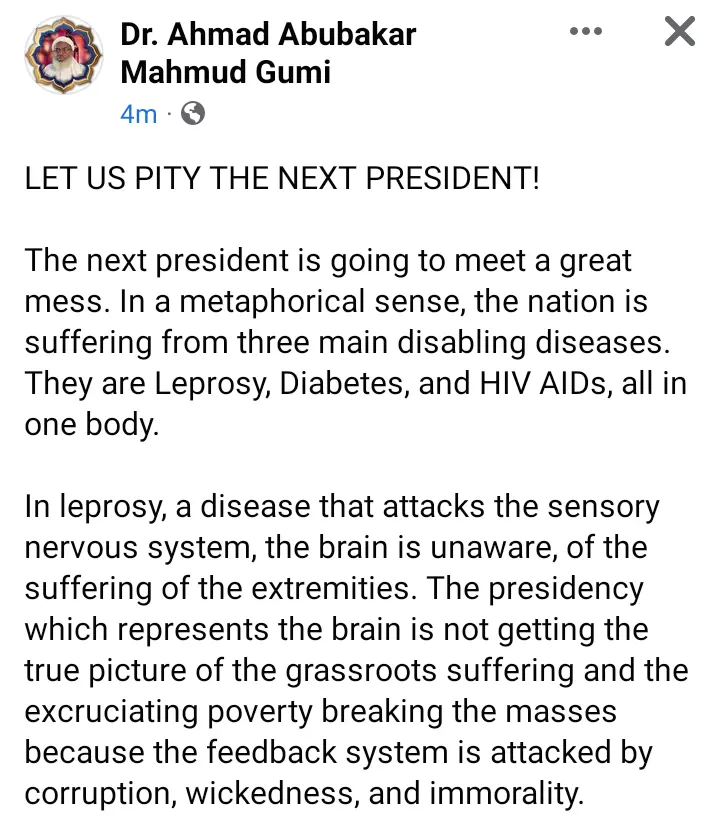 They both carried out attacks on public and private infrastructures in the country.
These attacks have led to the killings of innocent people and the destruction of properties worth millions of Naira.
That is why the problem of insecurity has become the main issue with the current government.
And that is why Sheikh Gumi had said the next government has a lot of things to do. The government can as well give impetus & opportunities for private security companies & contractors (PSCs) which have been engaged by governments around the world.
This will help bridge the security gaps to not only flourish but also create massive employment for their home countries both at home, & abroad as well as contribute massively to the improvement of security infrastructures, & technology in their home countries.