A retired US mental health counselor and a social media influencer, who happens to support the Presidency of Peter Obi, released a statement via his twitter handle, where he publicly endorsed the Presidential candidate of the Labour Party, Peter Obi.
In his statement, the retired US Mental health counselor, Dr. Jeffrey Guterman in the statement he released via his twitter handle this afternoon, revealed to his followers that Peter Obi has followed him on twitter, and that he is overjoyed for the Peter Obi's followership.
Directing his statement to Peter Obi, Dr. Jeffrey Guterman stated that Peter Obi is the future. He further told peter obi to let him keno how he can help.
Dr. Jeffrey Guterman said,"I am overjoyed to have just been followed by Peter Obi. You are the future, Mr. Obi please let me know how I can help".
Below is the screenshot of his statement gotten from his twitter handle;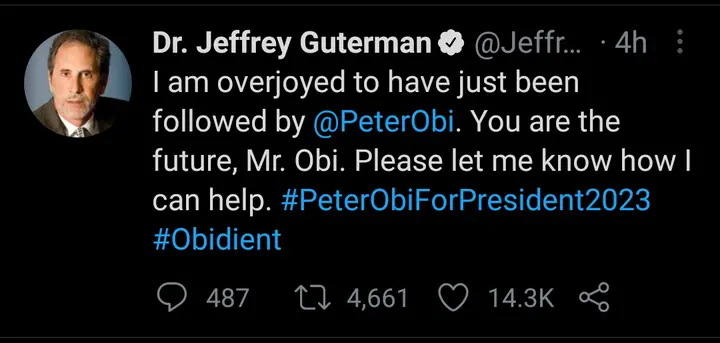 What do you have to say about this statement from Dr. Jeffrey Guterman?