The foremost anti graft agency in Nigeria, Economic and Financial Crimes Commission, EFCC, has stated that Landlords that rent their houses to Yahoo Boys risk the jail term of up to 15 years.
The anti graft agency disclosed this known through its official Twitter page. EFCC also call on members of the general public to attend a town hall meeting, with the theme:
"Landlords: give your house to Yahoo boys, spend 15 Years in jail"
This proposed public hearing by the EFCC is scheduled to hold on June 29, 2022. The tweet obtained from EFCC's official Twitter handle reads thus:
"Okay now! What a juicy topic! E go sweet wella! Landlord way yahoo boy dey stay for him house, my people, na 15 years imprisonment for the landlords o! E don set."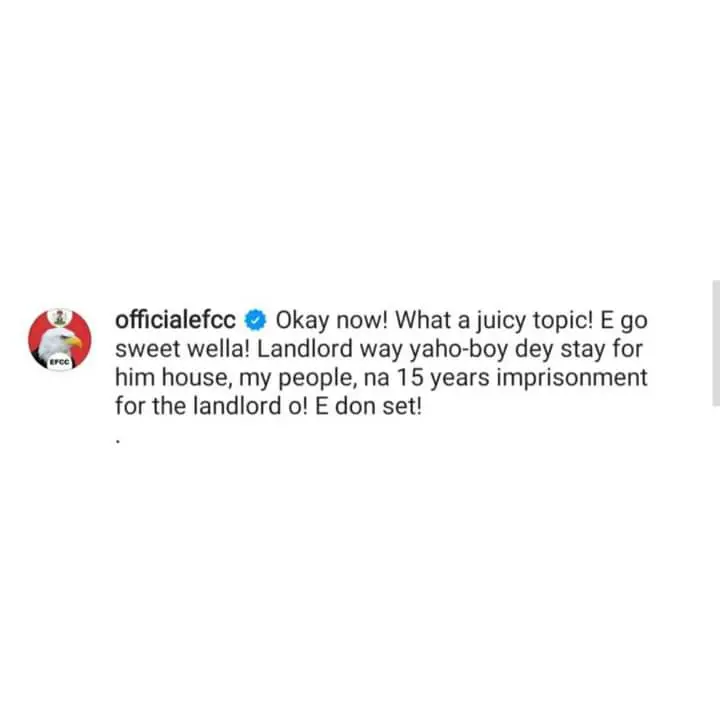 "The EFCC is pleased to invite the general public to the tenth edition of EFCC-Connect: an open forum with members of the public as we discuss."
I think this decision should be tried in a court of law. Does the EFCC have the right to determine people that can stay in a house of not?