Barr. Marcel Dim-Udebuani while speaking withe Bellnews Online revealed that on the 28th of June, 2022 a lady lawyer in the law firm of Wole Olanipekun who is the Chairman of the Body of Benchers.
Body of Benchers is the highest legal body in Nigeria which institutionalize Legal Practitioner Disciplinary Committee (LPDC) which is an arm in Body of Benchers.
The lady lawyer from Wole Olanipekun firm wrote an email on the 20th day of June, 2022 to a foreign oil company that has a link with Rivers State telling the oil company that their law firm will use their position of Wole Olanipekun Firm to twist and get judgement that is favourable to them, they also claimed to have use this position to win cases for MTN, Chevron and three other prominent cases that they have handle and wage judgement to their own favour.
The foreign oil company sent this mail to their lawyer "Odiah Ojumokobia" (SAN) and former minster, who saw the mail as an insult and big slap to legal practition and he sent the mail to Nigeria Bar Association (NBA).
The NBA President Olumini Olepata who is known as a no nonsense man was angry with the mail in which he wrote a letter to Wale Olanipekun telling him to step aside sbecause the matter is already before the Legal Practioner Disciplinary Committee (LPDC) which is a smaller body of BODY OF BENCHERS.
Olumini Olepata the NBA President also Advised Chief Wole Olanipekun that there is no way somebody in his lawfirm will be accused of such a crime and the person never denied.
In which he said that the lawyer lady who sent the mail also didn't apologies to the senior lawyers in the matter, which he said it is not an allegation but a confession.
The NBA inturn wrote a letter to Wole Olanipekun telling him to step aside.
It was later learnt that Wole Olanipekun started ganging up with senior lawyers to defend him which he said he is not going to step aside and whereas it's the same Wole Olanipekun who told "Onoghe" whenever you are invited just step aside.
And finally, I wrote an appreciation letter to NBA President thanking him for the stand he has take in this matter and we are also threatening to go to court and see the judicial interpretation in this matter, if Wale will still continue to stay as the Chairman of Body of Benchers even in the midst of what a lawyer or partner in his law firm has done and we are also calling other relevant bodies in NBA to Investigate all the cases one by one handled by Wole's law firm because this current matter have showed that their judgement have been procured.
See letters below: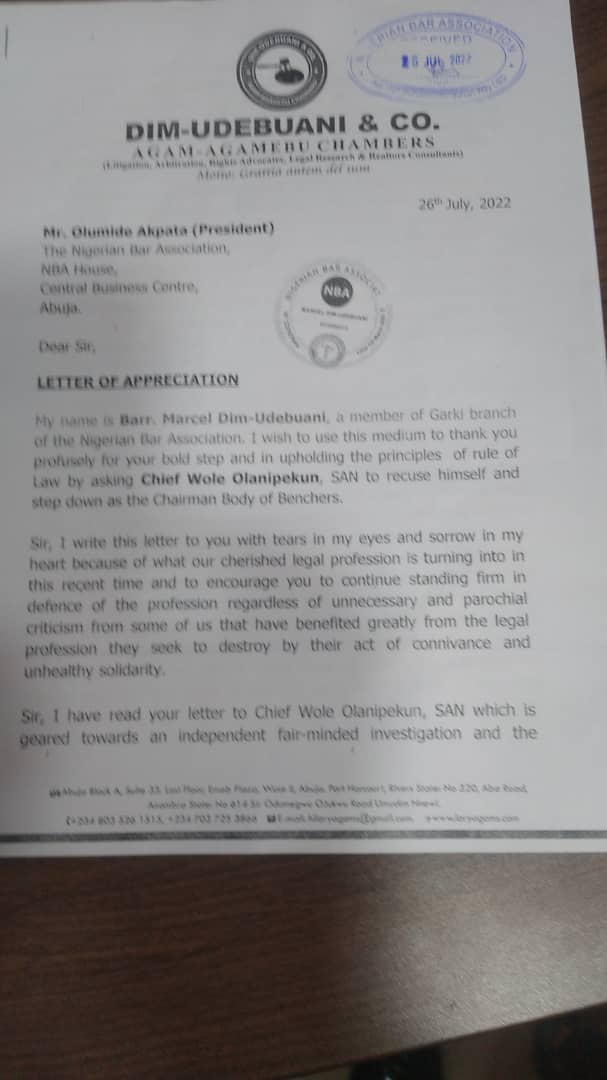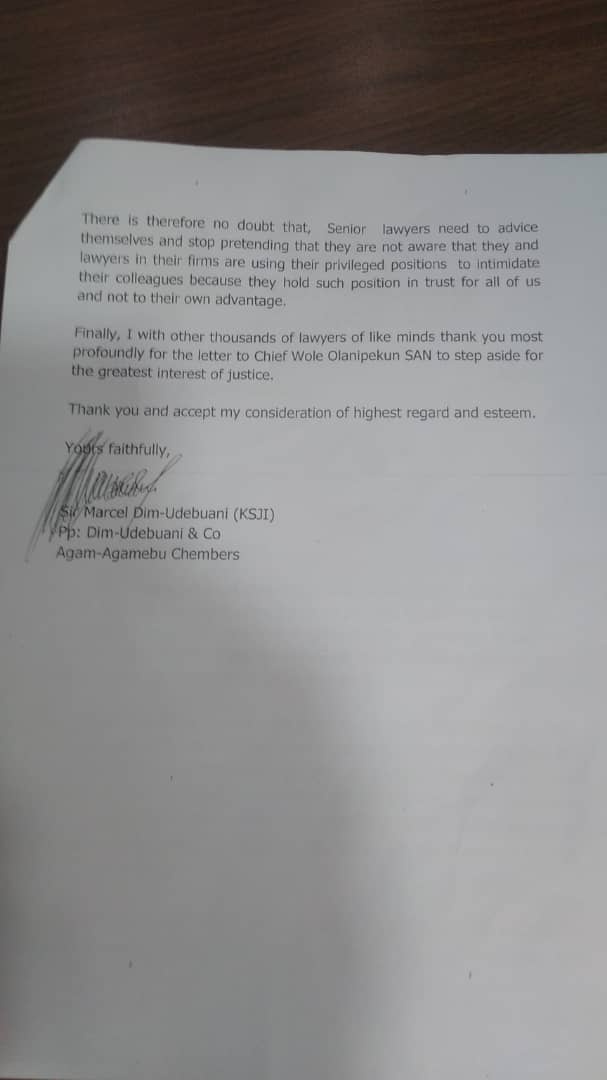 Barr. Marcel Dim-Udebuani