Ahmad Shehu a P.hd holder has thrown a huge question to peter obi supporters as he took to how Twitter page to ask fans of Peter Obi a question which might shake the Labour Party presidential candidate.
As we edge ever closer to the 2023 general elections, aspirants who are considered to be frontrunners in the race for the presidency have started to come under scrutiny from opposition camps.
Apart from raising allegations about their past financial dealings, questions are now being asked about the performance of some aspirants who have held one public office other in the past.
For example, a few hours ago, Ahmad Shehu took to his Twitter handle to throw a challenge at supporters of the Labor Party presidential flag bearer, Peter Obi.
In his tweet, Shehu, who is an Assistant Professor at the American University in Yola, Adamawa State, challenged Obi's supporters to name one outstanding project he executed while he was the governor of Anambra State, with an emphasis on the word 'outstanding'.
"Name 1 outstanding legacy project of Obi administration in Anambra State Outstanding is the keyword," he wrote.
Quite interestingly, Shehu's challenge has drawn mixed reactions from some of his followers on Twitter.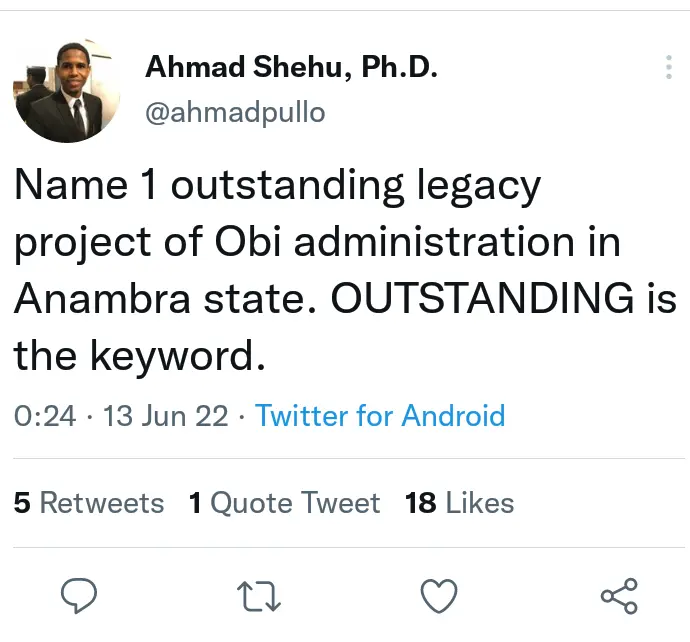 While some stated that some supporters of the former Anambra Governor will respond by raining insults on Shehu, others alleged that the question might go unanswered because there are no projects for anyone to point to.