Lauretta Onochie, an aide to president Muhammadu Buhari was on her social media handles to speak on the sudden clamour for people to get their voters card ahead of the election by some group of people.
Lauretta Onochie noted that it is great to register and vote because every adult should be on the voters register but the threatening way and manner the supporters of a particular candidates have been telling people to get their PVC shows that they have been aloof and they have just woken up from their deep Political slumber.
Lauretta said these set of late comers are not even aware that millions of serious Nigerian youths have their PVC and they have been voting, and these set of serious youths are at the stage of political Participation and they are now running for offices.
Lauretta said the supporters of this particular candidate will learn a lesson that will culminate in 2023 that naivety and name calling does not result to political gain.
In conclusion, Lauretta Onochie said coming online to insult and abuse people is not a smart way of winning converts for Peter Obi's party.
Lauretta said Peter Obi's supporters are behaving like Nnamdi Kanu's supporters, or are they the same people?.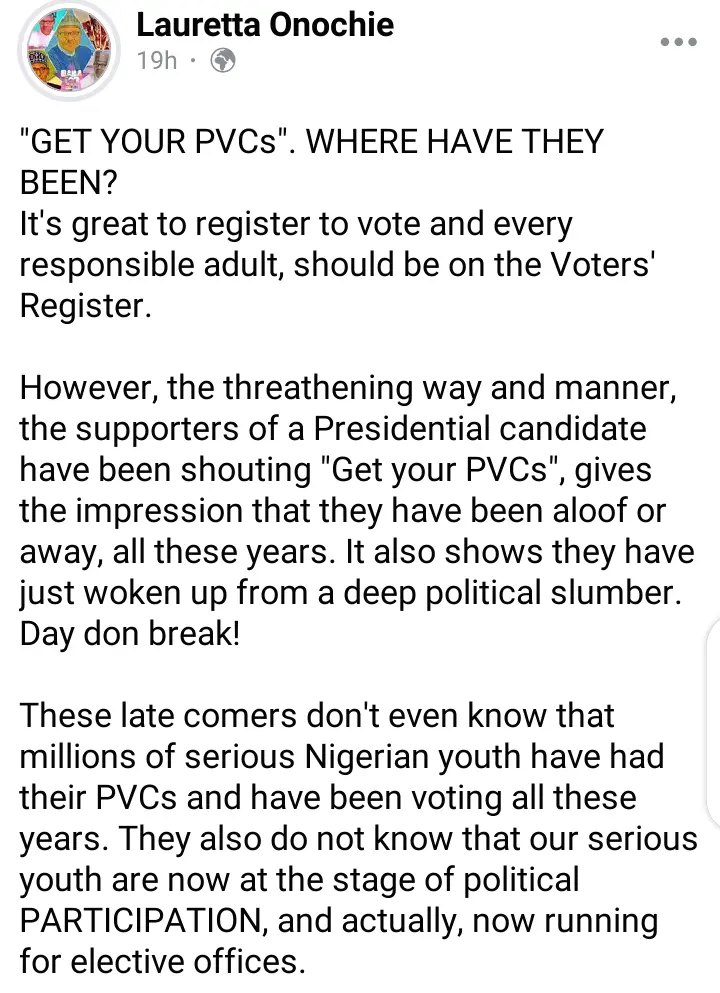 Lauretta Onochie advised Peter Obi's supporters to change their ways, build bridges and cultivate friendship instead of demolishing bridges.