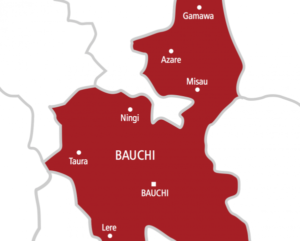 One person has been killed and four others sustained varying degrees of injuries following a violent clash between rival youths of Yelwan Tsakani, a sub-urb of Bauchi metropolis on Friday night.
Several houses and many property were also burnt in the incident which happened at about 9.30pm.
Our correspondent learnt that some youths started shooting guns sporadically aimed at another rival group on the road leading to Lukshi village.
A resident of the area who sent a text message to our correspondent said: "There is fighting happening in my place. Please pray for us."
Another source told our correspondent that the situation has caused pandemonium among residents.
He said: "Our area is currently under attack, houses are currently on fire as I speak with you now (11.00pm). I don't know what exactly is happening, but we were in our house when we had shouts and we realized that houses opposite us are on fire.
"We can hear sporadic gunshots being fired outside and we don't know who are firing the gunshots. The whole area is under serious tension at the moment."
Another source from the affected area told our correspondent on the condition of anonymity that the clash was a reprisal following an earlier attack on Tuesday when three youths were allegedly matchetted in front of their house in Yelwan Tsakani.
The source added that the attackers also snatched telephone sets and other valuables from the youths after attacking and inflicting injuries on them.
"We were at home when suddenly we started hearing gunshots and shouts from outside. Much later, houses were set ablaze by the rampaging youths.
"I can't tell the number of people injured but many were injured as well as the houses, cars that were burnt by the youths. It was the prompt arrival of security operatives that saved the situation. I am not aware of any death," she stated.
When our correspondent visited the area Saturday morning, it was observed that there was still palpable tension among residents of the area.
There was also a heavy presence of security agents comprising of the Nigerian Army and the Nigeria Police Force in several Hilux vehicles.
Our correspondent saw several youths and women standing in several groups discussing the incident with serious suspension written on their faces. Some of them were seen armed with sticks in their hands.
Meanwhile, the Bauchi State Police Command confirmed the incident saying that in addition to the one person that was killed and the four injured, five houses were burnt down in the incident.
The Command's Public Relations Officer, Ahmed Wakil, made the confirmation in a statement titled: "CP Sanda orders for discreet investigation into the circumstances surrounding the disturbance of public peace in parts of the Yelwa area of Bauchi", and made available to journalists on Saturday.
Wakil, a Superintendent of Police said: "On 27th May, 2022 at about 10:00pm, there was a distress call of skirmishes at Yelwan Tsakani, Lushi and Uguwan kusu. Preliminary investigation revealed that the disturbances emanated following a rivalry amongst the youths of Anguwan Taya, and Yalwan Tsakani which extended to other parts of Yelwa.
"As a result, five houses were set ablaze, four persons sustained various degrees of injuries and one was certified dead by a medical doctor."
He said that police operatives comprising Tactical teams, Mobile Police Force, Rapid Response Squad and Quick Intervention Unit, swiftly responded to the distress call and brought the situation under control.
He added that visibility patrols are still ongoing to maintain peace and prevent further breakdown of law and order in the affected area as well as the Bauchi metropolis.
"Consequently, the Commissioner of Police CP Umar Mamman Sanda, has ordered a discreet investigation to ascertain circumstances surrounding the incident and bring perpetrators of the dastardly acts to justice.
"The CP further appeals to the general public for calm and to go about their lawful business as normalcy had since been restored in the affected area," he stated