By Don Peter Okoro.
The Ancient and Industrial Town of Nnewi in Nnewi North LGA of Anambra State was thrown into a Festive mood on Saturday the 29th of July 2023 when the families of late Mr. Martin & Mrs. Florence Umeozorkwere of Igbe Lilu in Ihiala LGA of Anambra State and late Ven. H.U.U. Okonkwo & Mrs. Euny Okonkwo of Ngogwugwu Village, Ojoto Idemili South LGA of Anambra State welcomed Guests from far and near for the Traditional Marriage Ceremony of their children, Bibiana and Ifeanyi which took place amidst pomp and pageantry at St. Andrew's DCC Church Nnewi Anambra State.
The ceremony was a huge success as everything went on smoothly and there was no hitch of any kind.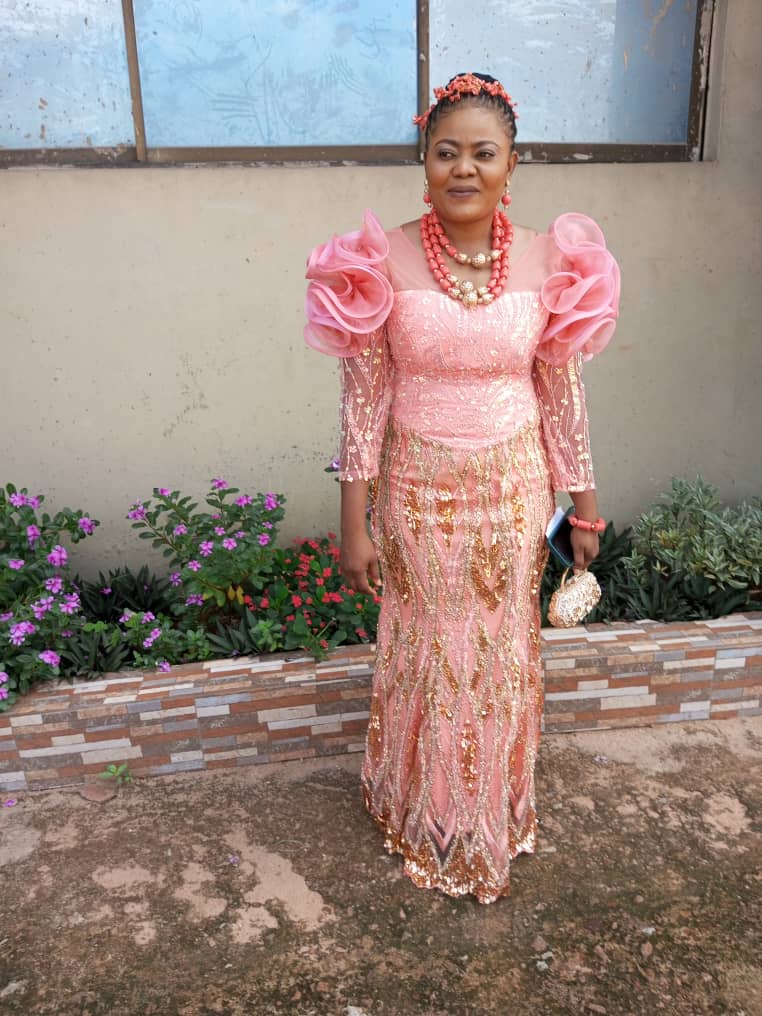 The Music supplied by Ugo Done Entertainment was Top Notch as the Couple danced to the admiration of the Guests who appreciated them by spraying wads of crisp currency notes on them.
As the Marriage Proceeding was going on the Bride appeared in two flamboyant and fashionable costumes.
The climax of the Ceremony was the Traditional presentation of wine from the Bride to the Groom after the Bride's Family confirmed that all the Marriage Requirements have been met and the Marriage Rite duly fulfilled.
It was indeed a thing of joy. As the formal Ceremony was going on, lavish refreshment was also being served.
All the Guests were treated to sumptous delicacies of delicious meals and drinks except alcohol.
There was too much to eat and drink. From the look on the people's faces, it was obvious that everybody was extremely happy and went home gladly thanking God for the Couple.
In a brief chat with the Press, the Groom, Ord. Ifeanyichukwu Okonkwo has this to say:"It wasn't easy, but I made every effort to get her and God helped me to accomplish the whole thing.
When a man is looking for a wife,I think he is looking for a good thing and if he gets that good thing, favour will follow, left and right.
My seeing her was God's design. I appreciate God for bringing us together and for perfecting what he started.
This Marriage has been blessed by God. So we really acknowledge Him. I also pray that those who came here for this event, that God will lead them back to their various stations in Jesus name."
Adding her voice to that of her husband Mrs. Bibiana Okonkwo said:" I am very excited. I'm very grateful for what the Lord has done.
He perfected everything. I'm so happy. I thank God for today. I thank God for the fair weather. I thank God for the people that came from far and near, I'm so happy and I appreciate God for that. May His name be glorified".
She further stated that she accepts the Marriage with all her heart. Also speaking, the brother to the Bride, Mr. Chukwuemeka Umrozorkwere said he is praying for the couple as well as praying for everyone that took time off their busy schedule to come and celebrate with the couple.
In his words:"I bless everyone that is here. Whosoever that is married will enjoy the fruits of marriage and whoever that is ripe for.marriage will get married
On his advice to his sister he replied:" I will advice her to always obey and respect her husband in everything except If it is a bad one.
But the husband being a Pastor, she should always put her head on his shoulders.
The husband is the Master, the King and the Head of the house that is how God made it." Adding his voice, a former Church Warden in their Church at Nnewichi where Bibiana was the Clerk,Mr. Innocent Madu described Bibiana as a very hard-working and jovial person and prayed that God will sustain their marriage He also prayed that God will grant whatever they desires from God.
In his own contribution, Rev. Cannot Emmanuel of Rock of Salvation. Anglican Church Ndimgbu Otolo-Nnewi expressed his gratitude that Sister Bibiana is married into the Parsonage and prayed that she would be faithful to the Lord who has shown her mercy today.
The Manager of the Diocesan Farm Ozubulu, Rev. Cannon Amadigwe said that he was one of those who prayed for her to get married soon and that he is very grateful that his prayers have come to physical manifestation.
Asked to describe Sister Bibiana, he replied:" Bibiana is jovial, kind and patient. She is not a trouble maker or troublesome.
She is a very good girl and I believe that she will be able to carry all these good qualities into her husband's home and at the end of the day they will be able to make heaven. Thanks."