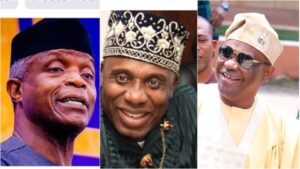 Yesterday, the Vice President of the Federal Republic of Nigeria, Prof. Yemi Osinbajo was in Rivers State on his Presidential Ambition's consultation tour, and it was like a visít of a nobody to the state.
It was the Deputy Governor of Rivers State that actually welcomed and received the second in command after President Buhari.
But do you know why APC supporters in Rivers State did not make any noise about His excellency the governor of Rivers State, chief Nyesom Wike, not being there himself to welcome 'A whole Vice president of the Federal Republic of Nigeria?
It could be as a result of Amaechi's absence also. Amaechi himself was not there to receive the Second Man in Nigeria and his immediate Former Second boss. In fact he was not even in Rivers State.
Just imagine what the media would have been like against Governor Wike's absence if Amaechi himself was there
However, the Leader of APC in Obio/Akpor Local Government Area, and Frontline Aspirant for House of Representatives seat, Obio/Akpor Federal Constituency, Hon. Chikordi Dike, met with Professor Yemi Osinbajo, The Vice President, Federal Republic of Nigeria, and a Presidential aspirant, at the State Party Secretariat in Rivers State.
Vice President Yemi Osinbajo and presidential hopeful of the All Progressives Congress has said the party was poised to take over the Rivers State Government House, as well as retain power at the centre after the 2023 general election.
Osinbajo stated this while addressing APC delegates and party stakeholders in Port Harcourt, Rivers State capital on Thursday.
He commended the party in Rivers for being strong and united despite being in the opposition, pointing out that it was not easy to survive as an opposition party.