Top Nigerian Author and Lawyer, Reno Omokri has stated that he has never been insulted the way Peter Obi's Supporters did to him in his whole life even after everything he did for Peter Obi.
He added that Peter Obi's Supporters are not only insulting him but they are also insulting Atiku and PDP and Peter Obi isn't doing anything to quench such insults.
Reno Omokri made this Known in a Statements he released on his Twitter Page on Wednesday, 15th of June 2022.
In the quest to reveal what he has been passing through in the hands of Peter Obi's Supporters, Reno Omokri State,
"In my life, I have never been insulted the way Peter Obi supporters insult me. Yet, this same Peter lobbied me when he wanted to be Atiku's running mate in 2019.
"I supported him over others. Yet, he watches as his people insult Atiku and I. Nobody knows tomorrow."
In his further analysis Reno Omokri Stated that it's not even the behaviour of Peter Obi's Supporters that appals him but it was Peter Obi himself who disappointed him by refusing to caution his Supporters.
He made it known that he has helped Peter Obi in Many aspects of life and yet he is watching as his Supporters insult him and Atiku.
He stated that Atiku Chose him as his running mate in 2019 even when the Governor of his state and some south Easterners refused to support him. Now his supporters are paying back with insults of different degrees.
He added that Atiku with himself has carried Peter Obi's matter to many level so that it can be settled.
He ended by saying that no one knows tomorrow.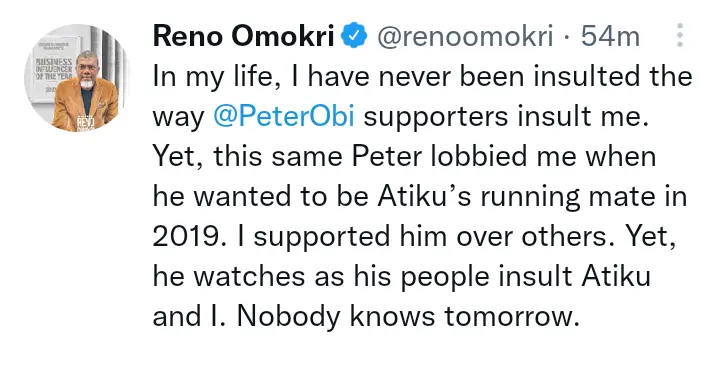 We should recall that Peter Obi's Supporters in many cases have been identified as online voters that insults other aspirants while campaigning for Peter Obi
Several time Peter Obi has addressed this issue on his Twitter page telling his Supporters to desist from insulting other Presidential aspirants.