David Nwamini Ukpo, the young lad at the centre of the organ harvesting saga charged against Ike Ekweremadu and Beatrice, his wife, recently disclosed his own side of the story.
Contrary to speculations that he was seeking asylum, that was why he went against the arrangement to help the former Deputy Senate President's daughter, who was diagnosed with kidney malfunction.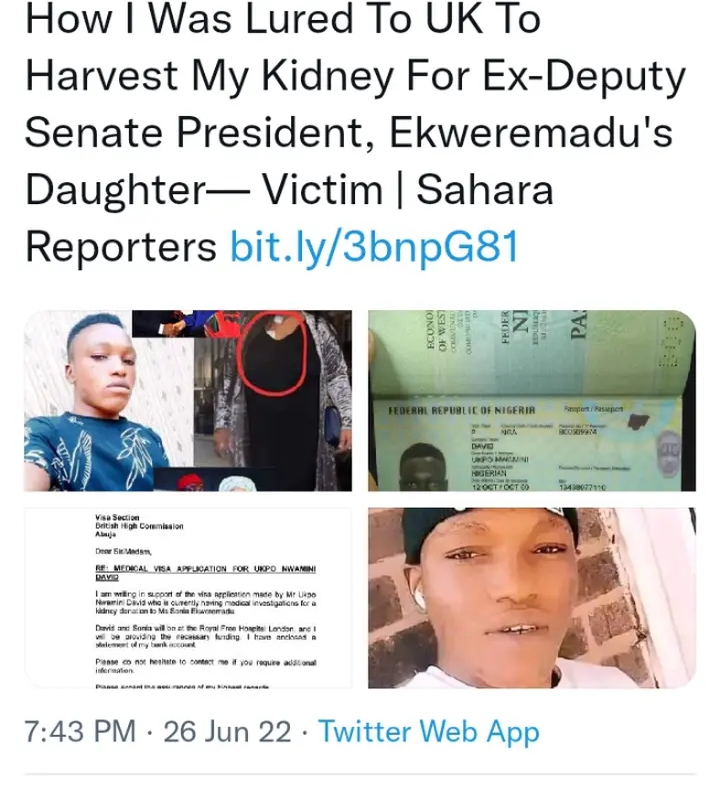 You may recall that the Nigerian couple were arrested by the Metropolitan Police and charged in the UK.
They were denied bail by a London magistrates' court and were to remain in police custody till July 7, 2022, for another hearing.
In a post titled, "My journey to the UK," David Ukpo took to Facebook on Saturday, June 25, 2022, to share his side of the story in a post titled, "My journey to the UK."
According to him, he met the EKweremadu's through one Mr. Okoro while working at a construction site and was offered a better job in the UK through the same company. He disclosed
that he was taken for a medical fitness examination where a doctor named Harry disclosed the procedure they were about to carry out on him.
Hence, he told the doctor why he was in the UK, and that was how the police got to know of the case.