The Anambra State Lawmaker, Hon. Okechukwu Okoye who was abducted on May 15, 2022 and eventually found headless on May 21, 2022 has finally been laid to rest.
Governor Charles Soludo, Governor of Anambra State was among the dignities who graced the burial ceremony of the late Anambra State Lawmaker.
While reacting after the burial ceremony, Governor Soludo said that the death of Honourable Okechukwu Okoye who is also known as "Okey Di Okay" is one that is too many which he said hits him personally.
Before his abduction and death, Honourable Okechukwu Okoye was representing the Aguata II Federal Constituency which is Prof Chukwuma Charles Soludo's community. This could be why his death hits the Governor personally.
In his Facebook post, Soludo joined family, friends and well-wishers to bid a painful farewell to Okechukwu Okoye.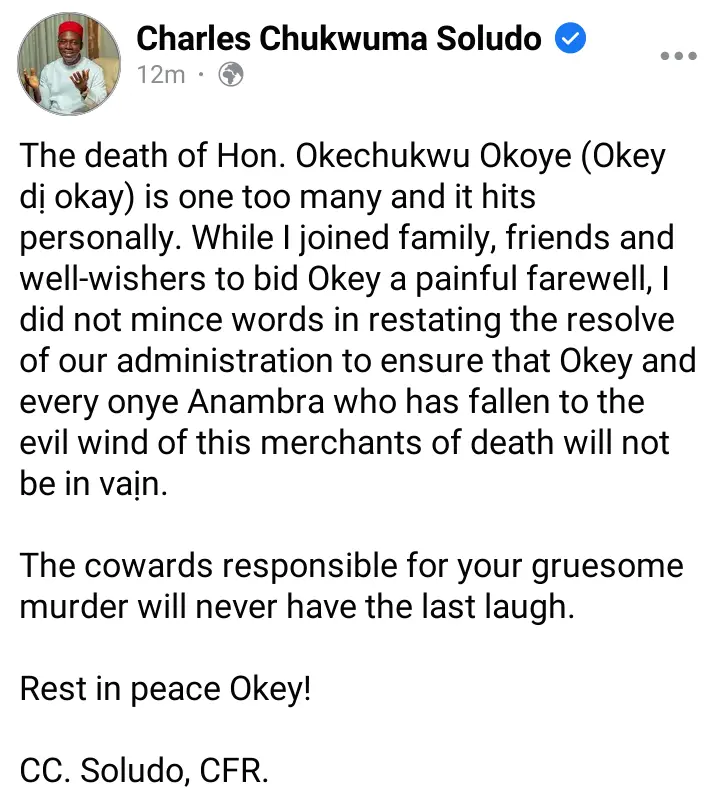 However, he restated his commitment to ensure that the killers of the Lawmaker are brought to book.
According to him, he did not mince word in restating the resolve of his administration to ensure that Okechukwu Okoye and any indigene of Anambra State who has fallen to the evil wind of the merchants of death hovering around Anambra State and neighboring states will not be in vain.
He promised that those that killed Honourable Okechukwu Okoye who he referred to as cowards shall not have the last laugh as his administration will do anything to ensure that they are brought to justice.