Following the accounts given by Obi Afam Iloka and the father of the late Chidi Iloka (Nee Ezenwonye), both claimed that the family members of the desist; especially Chikwado did not talk to the press, by the press they meant bellnewsonline.com . In the truth table in logic, once your major premise is proven to be false, any other thing you said is false.
The management of bellnewsonline come have decided to release the audio recording of Chikwado speaking to them and even that of Beluonwu Igboukwu who claimed to bellnews online that the desist was his sister. And the truth is that we have noticed that most people are denying ever saying anything in this case, the question is , is their any ongoing inducement and deliberate attempt to cover something by both parties?
Listen to the conversation between Chikwado the younger brother to the desist and bellnewsonline.com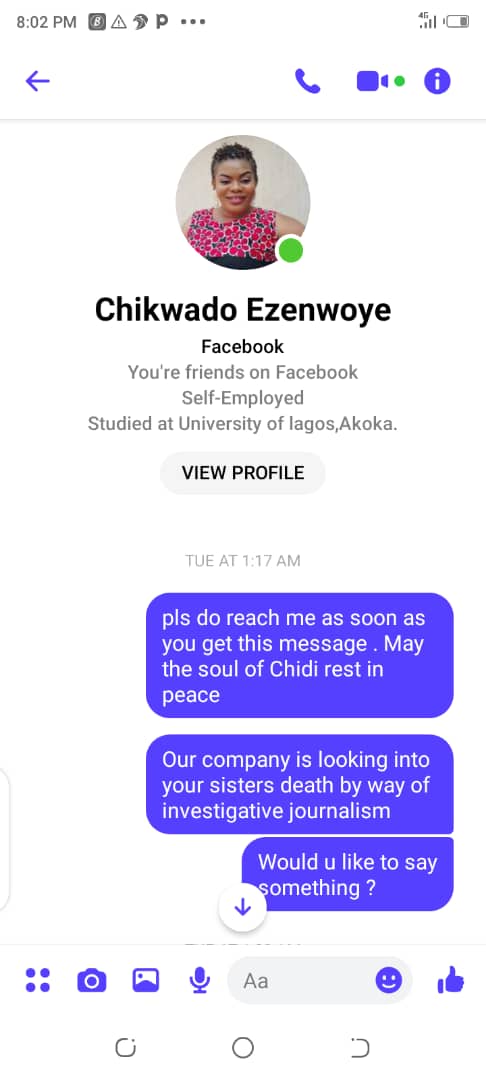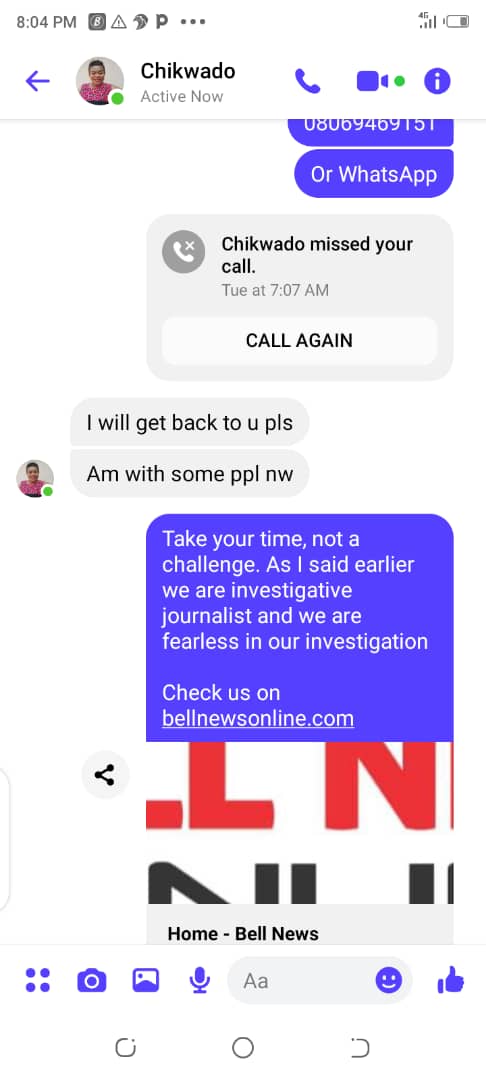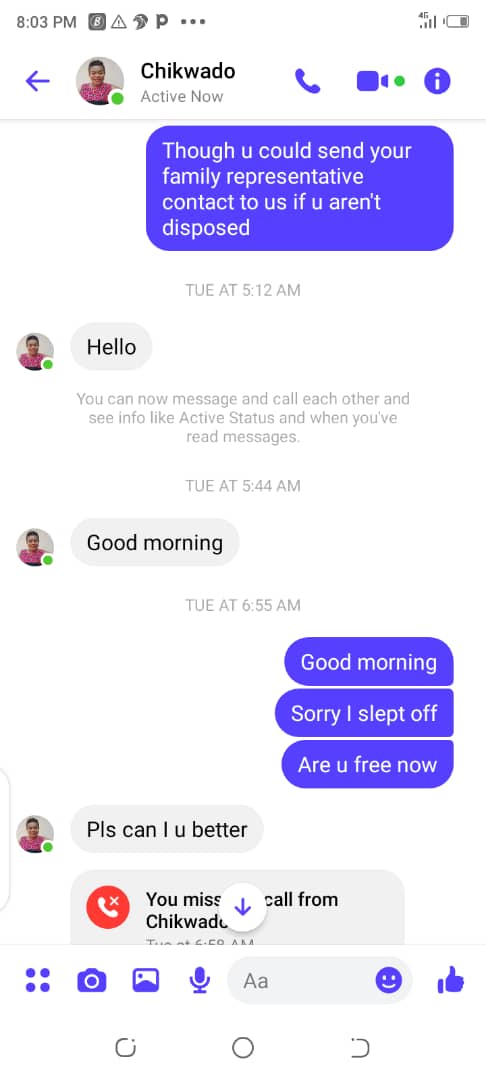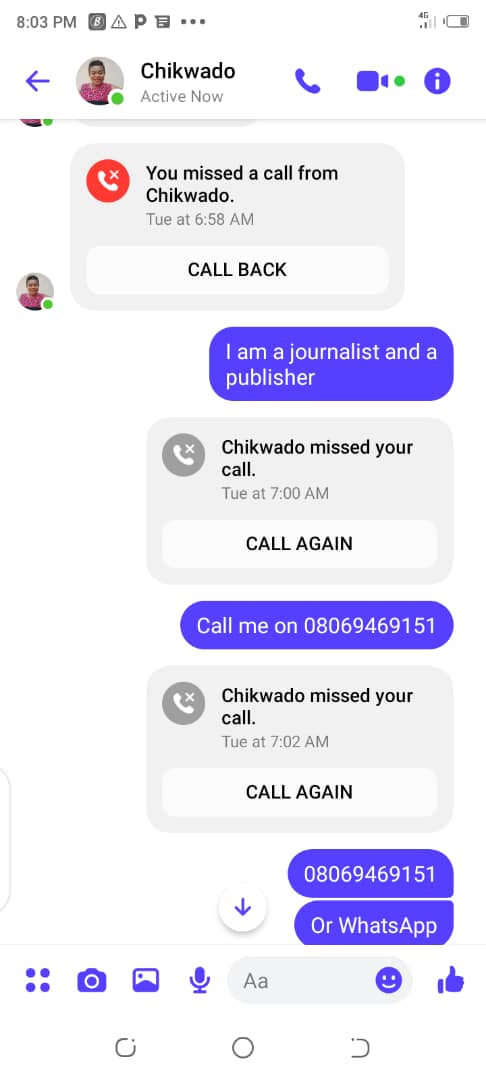 Click here to listen to the voice note
The second member of the family who on his own requested audience with bellnewsonline.com is Beluonwu Igboukwu , during his interaction with Bell News he clearly accept the hypothesis that his sister late Chidi was murdered.
Click here to listen to Beluonwu
The father further claimed that those who wanted to abduct the publisher of bellnewsonline com were police officers, but the person who almost teargased our publisher to dead is not a policeman, and the two or three order person who held him hostage has been fully identified as hired tugs. Those who came on the tinted Hilux that they wanted to whisk him away with before his providential escape never came down from the both vehicles.
Let's even look at the story line of Ikemefuna and Mba Mba who were present when she slumped
According to the husband's account
1. Mba Mba said she first hit her face on concrete wall. It's happens in broad day light, she failed with her face on the concrete wall . From Mba Mba's account he was looking at her she fail with her face on the concrete as she struggle to gain balance and eventually with her head on the iron.
So Mba Mba was so sure she first sustained the wound in the face before that of the head.
2. While Ikemefuna who was sitting with him at the same spot said she first hit her head on the edge of the concrete wall and later hit her face on the foundation.
Do you understand the divergence, Mba further claimed she failed down rose again and failed again, meaning he was watching it as movie and was too sure how it happened.
This is irrespective of the fact that Ikemefuna claimed they had somebody fail and he said to Mba Mba is like their food had poured. This is the same woman whom Mba Mba was watching and she is falling and getting up.
Use your tongue to count your teeth. Either both of them took substance or were drunk or so disjointed that they both did not notice they are given different accounts of the event that happened in their presence.
I am curious that Mba Mba told those who earlier came to symoathise with him that when his wife called him and he noticed that her voice is down, he asked her what is happening and she said she has taken her pain killer. Meaning she is on pain killer drugs. Why is she on pain killer drugs, is it because of the initial head wound which all of them refuse to account for during their separate interviews? Can Mba Mba now tell the world in Igbo language as usual why his wife was carrying bandage on her head to work few weeks ago?
Irrespective of the noticed irregularities, bellnewsonline came to certain conclusion, that it may not really be a crime scene, but Mbazulike Iloka is simply mismanaging the situation by telling needless lies.
Now to further proof to you that the interview granted yesterday by the father of the girl was financially induced to cover the abduction of Sir, Augustine Onyekachukwu Ike-Ikedoji and to make it appears as if everything is alright , listen to his first son speak from the bottom of his heart.
Click here to listen to the voice note
What actually raised suspicion was the amount of threat a traditional ruler was issuing to those who published the image of Mba Mba's wife. His desperation is shocking for two reasons, why do he have to threaten people because of photo of the late Chidi Iloka which is naturally looking suspicious? If he is so concerned, why did he leaked the video that generated the controversy?
Despite the attempt on the life of our boss Sir, Augustine Onyekachukwu Ike-Ikedoji, we still think Mbazulike Iloka may have a good case, but he is surrounded by enemies.