Obi for taking a trip to Egypt for the purpose of under studying the Educational, power and other important sectors of the Northeast African country.
According to Paul Arkwright, the British Diplomat replied Sowore that Peter Obi would have thought that learning from other countries will be important and instrumental to fixing the failing performance in Nigeria. While tweeting further, Paul said that it is not all solutions are homegrown.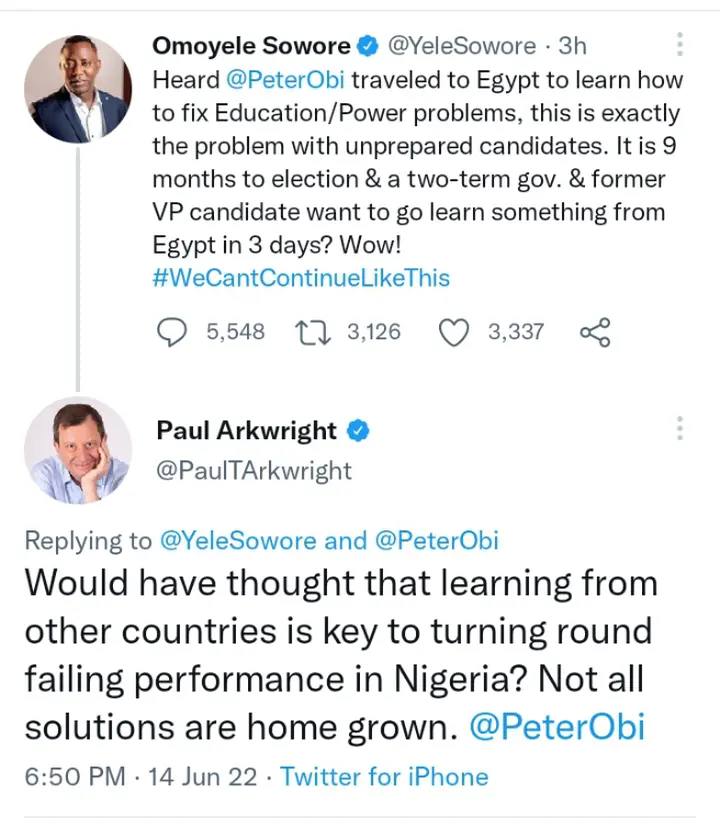 The reply from Paul Arkwright may point that the British Diplomat understands that it is not a problem going to other countries to learn about their achievements.
It would be recalled that Sowore, in a tweet he recently shared on social media, faulted Peter Obi's trip to Egypt, calling it a sign of a weak politician.
Sowore also went on to say that it is 9 months to the presidential election and of all things needed to be done, Peter Obi decided to travel to Egypt to learn something in 3 days.
Just like Paul Arkwright has said, not all solutions and ideas are gotten from one's home country.
Sometimes, people need to go outside their countries, learn how things work in other countries and come back to apply it locally.
What is your thought about this? Kindly let us know in the section below.