Chief Mueeze Akande, a long time associate of the Presidential Candidate of the All Progressives Congress, Bola Ahmed Tinubu, has died.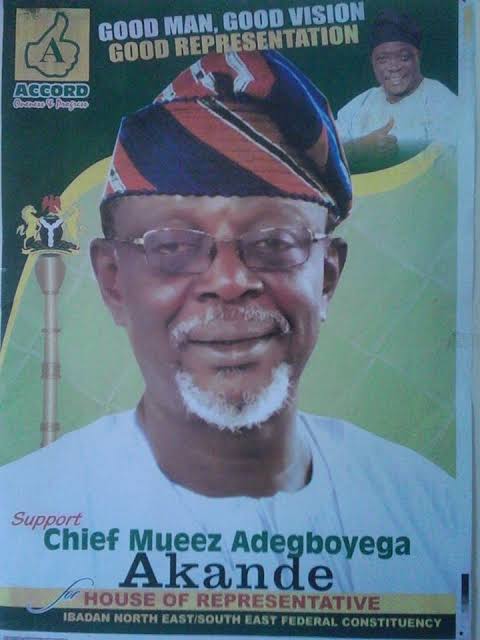 Bellnewsonline.com on Friday learned that Akande, a brother-in-law to Tinubu's wife, Senator Oluremi Tinubu, was a central figure in a Drug Trafficking Case that is currently haunting the former Lagos Governor.
The deceased was 72 years. He was the husband of Lola Akande, a sister to Oluremi, and current Lagos State Commissioner of Commerce, Industry, and Co-Operatives.
Furthermore, Akande's death is coming at a time the certified true copy of a settlement judgement ordering Tinubu to forfeit $460,000 drug money under the narcotic section of the US criminal code is causing controversy all over the country.
The Certified True Copy of the court documents, which included the judgement delivered by Magistrate John Nordberg of a United States District Court, Northern District of Illinois, Eastern Division, was dated August 10, 2022, and signed by Thomas Bruton and Johnny Khuu, both Clerk and Deputy Clerk, respectively, of US District Court, Northern District of Illinois.
The documents revealed how Tinubu and his associates were involved in the distribution of heroin and money laundering between 1988 and 1992.
In a Verified Complaint for Forfeiture of funds in several accounts linked to Tinubu in First Heritage Bank and Citibank in the US, a United States Attorney, Michael Shepard, had narrated how Tinubu opened about 10 accounts in the name of Bola Tinubu and Compass Finance and Investment Limited in late December 1989 and January 1990, wherein he deposited funds far in excess of his earnings in Mobil Oil, where he was working at the time.
Shepard noted that the funds in Tinubu's accounts were suspected to represent proceeds of drugs or property involved in money laundering, hence the initiation of a warrant of seizure and monition was requested from the court.
Reacting to the development, Investigative Journalist, David Hundeyin has claimed that the late Akande was preparing to speak on his role in the entire drug trafficking operation before his demise.
On Monday there was back channel talk about Mueez Akande wanting to do a tell-all about his involvement with Bola Tinubu in white heroin trafficking.
Yesterday he apparently dropped dead under unclear circumstances.
Very fortuitous for someone.