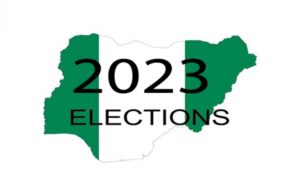 As the 2023 elections approach, Deji Adeyanju, a former Youth Leader of the Peoples Democratic Party (PDP), on Monday asked presidential aspirants of South-West extraction to step down from the race.
POLITICS NIGERIA reports that according to Adeyanju, the failure of Bola Tinubu, National Leader of the ruling All Progressives Congress (APC); Vice-President, Prof Yemi Osinbajo; and other South-West aspirants, to withdraw from the presidential race will mean the North will retain power in 2023.
"Tinubu, Osinbajo and other South West candidates should step down from the race now, if not; the North will retain power. Dear greedy South West people, let South East have it," Adeyanju wrote on his known Twitter handle. There have been calls from South-east leaders that the region should be allowed to produce a president for the first time in 2023.
Some leaders of the region have argued that the emergence of a Nigerian president from the South-east would end the Biafra agitation and the insecurity in the region. Both the ruling APC and the opposition PDP, the two dominant political parties in Nigeria, have been under pressure to pick their presidential candidates from the South-east.